CHINAPLAS 2018
Record attendance at new exhibition centre in Shanghai / Speedy, high-end production / E-commerce and digitalisation expanding in China's plastics industry
"New Age, New Era, New Technology" was a motto of "Chinaplas 2018" (
www.chinaplasonline.com
), the world's second largest plastics trade fair. The 32nd edition of the event was held from 24-27 April at a much larger venue – the "National Exhibition and Convention Center" (NECC) in Shanghai / China, with approximately 340,000 m² of exhibition space. Although it is a much bigger total area, in net area terms, the "K" trade fair and Chinaplas 2018 are more or less on par at around 170,000 m². Expectations were fulfilled in Shanghai, with the Chinaplas witnessing a record number of visitors.
Organiser
Adsale
(Hong Kong / China;
www.adsale.com.hk
) has recorded the number of attendees over the four-day event at 180,701, of which 47,900 or 26.5% were from outside of China. This is up 16.4% over the year before, when Chinaplas 2017 was held in Guangzhou, Guangdong (155,258 visitors), and an increase of 21.6% compared to the last edition in Shanghai in 2016 that saw 148,575 visitors. The second day of the fair was the fullest, with 64,385 registered visitors. The highest share (37%) of overseas visitors was on the last day of the event, when a total of 15,548 people attended.
"In moving to NECC, Chinaplas this year marked a new milestone in her history," Adsale's general manager
Ada Leung
said. "Visitors are satisfied with the theme zone arrangement, as they can more easily find clusters of exhibits that address their specific interests", she added.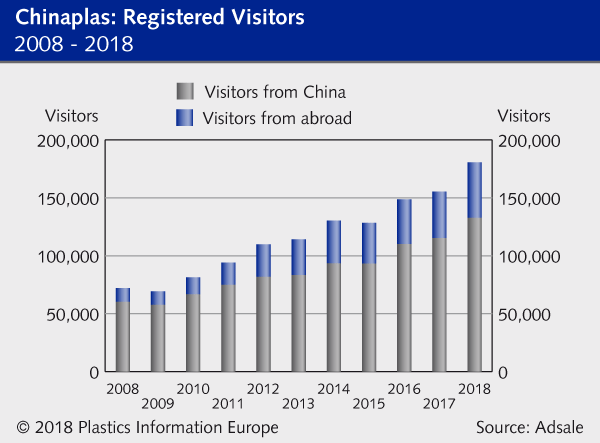 As is usual at that time of year in Shanghai, the weather was relatively mild, and the heavy downpours waited politely until the day before the fair. The climate inside the air-conditioned exhibition halls was another matter, and it was a bit chilly around the Austrian, French, German, Italian, Swiss and UK pavilions in Hall 2, which led to a couple of complaints. In addition, transportation to and from the brand-new centre was rather chaotic for exhibitors and visitors. Over the next two years, however, more hotels near the NECC are likely to open, and planned road work will be in effect.

China is now clearly the world's largest plastics market. With over 100m t of recycled plastics, the Chinese share of the global market in 2017 was almost 30%. Of this, packaging makes up around 42%, construction 22% and the automotive industry 7%. Annual growth in polymers consumption in China is estimated to be 5-8% until 2020.
China continues to grow its technology
This year, one of Chinaplas' core topics was the automotive sector, both for technology and polymer materials suppliers. Unsurprisingly, China is also the world's largest car market and a leader in new concepts here. Everyone was talking about e-vehicles. In China, electric drivetrains have long since become a key area for innovations. In many other industry areas, the country now sees itself as a pioneer, far removed from the former pure workbench to high-end production.
European processors were very impressed with the great speed with which developments in China are promoted financially, such as for automotive supply or raw materials producers. For example,
Lanxess
wants to benefit from the rapid development of new forms of mobility in China, and has accordingly aligned its portfolio of technical compounds to lightweight construction, charging systems and battery solutions.
Radici
and other European companies are increasingly focusing on on-site compounding, in addition to automotive and E&E applications – see Plasteurope.com of
30.04.2018
.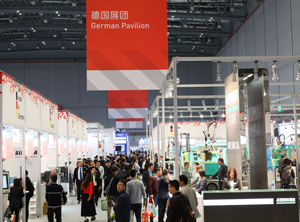 Hall 2 at Chinaplas 2018 (Photo: Adsale)
Medical technology in China is another field that is expanding – see Plasteurope.com of
30.04.2018
. According to
ChinaIRN.com
, the country's medical equipment market is currently worth more than CNY 100 bn (EUR 13 bn), with an average annual growth rate of 23%. Change here is rapid, and those not keeping pace are left in the dust. "In the plastics industry too, technology is the driver of success," says Adsale chairman
Stanley Chu
. Chinaplas is proof that China is constantly moving forward and improving. Modernisation in the domestic plastics industry is progressing, and competition with overseas players will become tougher. What was heard on the floors at the trade fair was that "the market in China is not only enormous, it is also developing at a high speed technologically. Competition with local providers is getting stronger."
"Smart Manufacturing" and sustainable solutions were also a focus in Shanghai. More Chinese exhibitors showcased bio-based raw materials, bags or films – also looking at overseas export markets. What was clearly recognisable was Beijing's environmental targets – the Chinese chemical and plastics industry has to increasingly look toward environmental impacts and sustainable products.
Chinaplas' organiser celebrates 40th anniversary
Adsale celebrated its 40th birthday during Chinaplas 2018. At its "Honorable Partner" awards presentation ceremony held on the trade show's first day, Chu said the company has grown along with China's economy. "Over the past 40 years, Adsale has weathered the struggles of early industries and benefited from the current economic take-off. We have witnessed China's transformation from a factory of the world to a powerhouse of innovations," said Chu. In its early years, the trade fair was organised to introduce overseas technologies and provide a procurement platform for local companies. "Now, it is an international hub that facilitates exchanges between suppliers and buyers from all over the world, and provides a platform for the introduction of high-end technologies."



Adsale celebrated its 40th birthday during Chinaplas 2018 (Photo: Adsale)
Flexible raw materials producers in demand
Global plastics producers also see it is necessary to adapt quickly and flexibly to developments in China. For example,
Clariant
's new regional leadership models that promote top Chinese managers – see Plasteurope.com of
30.04.2018
. Online marketing of raw materials is also trending, as the recent announcements by
BASF
,
Covestro
and Clariant show – see Plasteurope.com of
04.05.2018
.
While e-commerce on the Chinese portal
Alibaba
(
www.1688.com
) is aimed at small- and mid-sized local firms, it seems to indicate where things are headed. Digitalisation in China means far more than smart production, which is often more theoretical than practical. Along with e-commerce, smartphones and multi-purpose chat programmes, technological change could be by leaps and bounds, with no slowing down in sight.
The next Chinaplas trade fair will take place from 21 to 24 May 2019 in Guangzhou.
14.05.2018 Plasteurope.com [239666-0]
Published on 14.05.2018
German version of this article...