CHINAPLAS 2018
Medical plastics a hit in Shanghai / Trade fair expands with dedicated pop-up kiosks, open forum and guide book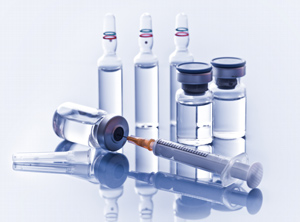 Precision and smart manufacturing of medical plastics was a hot topic at Chinaplas 2018 (Photo: Adsale)
According to a Chinese research network
ChinaIRN.com
, China's current medical equipment market has exceeded CNY 100 bn (EUR 13 bn), with an average annual growth rate of 23%. With such rapid growth, it has become a major focus of medical device manufacturers to search for medical-grade and high-tech materials. The market for medical devices, particularly implantable ones, is expanding rapidly as economies develop, populations get older, health awareness becomes greater and supporting policies are strengthened.
"Smart Manufacturing", "Innovative Materials" and "Green Solutions" were some key topics at "Chinaplas 2018", held from 24-27 April 2018 at the "National Exhibition and Convention Center" (NECC) in Shanghai / China – see Plasteurope.com of
24.04.2018
. The trade fair featured safety, precision and smart manufacturing of medical plastics, including devices, disposables and pharmaceutical packaging. New to Chinaplas this year were two medical plastics pop-up kiosks, which displayed medical plastics such as device components, lab equipment, tubing and connectors. One of the Tech Talks" on 25 April was also devoted solely to medical plastics. On that day, Chinaplas had already seen 116,365 visitors pass through its doors over the first two days, of which 28,781 (24.7%) were overseas visitors.
One of two medical pop-up kiosks at Chinaplas 2018 (Photo: PIE)
As well as the kiosks and open forum Tech Talks session, there were the "Medical Plastics Guided Tour" and the "Medical Plastics Guidebook", which provided 24 product highlights, a table of solution providers and other features. The last page of the guidebook contains a Q&A with
Clark Yan
, regional sales manager of
Lubrizol LifeSciences
, Greater China, who highlighted TPU has an "inevitable trend" to replace PVC in the medical sector.
About 1,100 exhibitors offered solutions for the medical and pharmaceutical industries at Chinaplas. Among them were
Motan-Colortronic
,
Kawata
,
Yudo
,
Fu Chun Shin
,
Tederic
,
Clariant
,
Solvay
,
Milliken
,
Momentive
,
MeHow
and
Mitsubishi Engineering-Plastics
.
In addition,
Chi Mei
(Tainan City / Taiwan;
www.chimeicorp.com
) showcased its new "Wonderlite PC-115P", which has ISO 10993 biocompatibility. It is applicable for sterilisation using gamma or electron beam (E-beam) radiation and ethylene oxide (EtO). Wonderlite PC-115P is a chlorine-free, high-flowability polycarbonate suited for applications such as dialysers and infusion parts.
Taiwanese firm
TSRC
(Taipei;
www.tsrc.com.tw
) announced the development of medical SEBS polymers, including "Vector DP-8101" and "Vector DP-8227". Compatriot company
USI
(Kaohsiung;
www.usife.com
) showcased "ViviOn", a new family of fully hydrogenated cyclic block copolymers (CBC). According to the company, the flexibility of tailoring polymer micro-structure provides this material with a wide range of properties, from rigid plastics to soft elastomers.
Engel Machinery (Shanghai)
, a subsidiary of Austrian injection moulding machinery manufacturer
Engel
(Schwertberg;
www.engelglobal.com
), launched a production system for pipettes. It is a fully automated system for the production of pipette tips consisting of an injection moulding machine, mould with 32 cavities and automation to take the pipettes out and place them into trays. The capacity of the production cell is said to be more than 15,000 pipettes per hour.
Haitian International Holdings
(Hong Kong / China;
www.haitian.com
) exhibited clean production technology for medical consumables at Chinaplas 2018. The company says its "Zhafir" flexible cleanroom concepts meet challenging requirements in terms of precision and cleanliness.
30.04.2018 Plasteurope.com [239480-0]
Published on 30.04.2018