SINGLE-USE PLASTICS
LYB, Braskem respond to report on top producers of resins for single use / Indorama stays mum despite "positive outlier" rating / Most major firms decline comment
The Australian non-profit organisation
Minderoo Foundation
(Perth;
www.minderoo.org
) recently released a report ranking the 20 largest producers of virgin polymers bound for single use in 2021 (
PIE 08.02.2023
).
The list was little changed from 2019, with the order for the top five intact: US-based companies
ExxonMobil
and
Dow
were still ranked first and third, respectively, with
Sinopec
in second, PET giant
Indorama Ventures
(IVL) fourth, and
Saudi Aramco
fifth.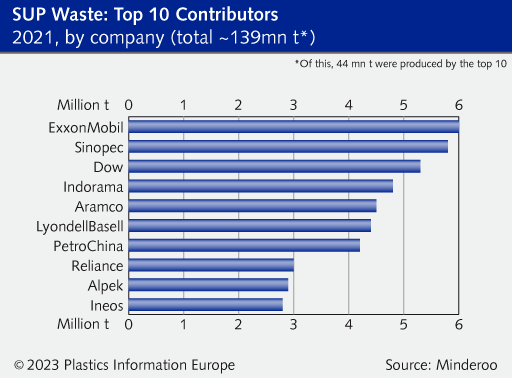 Plasteurope.com
reached out to companies featured in the list.
LyondellBasell
(LYB, Houston, Texas;
www.lyondellbasell.com
), ranked 6th by Minderoo with a 4.4 mn t "SUP contribution" in 2021, said it had formed a new Circular and Low Carbon Solutions business unit in 2022 to focus on the growing demand for recycled and renewable-based solutions.
The US company said it plans to install more recycling technology, return more recovered plastics into the value chain, and expects to be "unlocking investments" in reclaim. In 2022, the resin maker also announced its decision to move forward with a commercial scale chemical recycling plant to convert pre-treated plastics waste into feedstock for new polymer production in Wesseling, Germany (
PIE 13.10.2022
).
"LyondellBasell agrees with the Minderoo Foundation that ending plastic waste in the environment is a global issue which must be addressed," an LYB representative told PIE. "How we are addressing plastic waste is reflected in our company's goals: we aim to produce and market 2 mn t of renewable-based and recycled polymers every year, by 2030; zero loss of plastic pellets to the environment from our operations; for every dollar we invest in venture funds that address the plastic waste challenge, we help catalyse another five dollars from co-investors."
Related:
First meeting on global rules reveals discord
Elaborating on its 2030 target, the company said, "The commercialisation of advanced recycling using our MoReTec technology is expected to contribute approximately 25% of our goal. We expect the remainder will be achieved through use of renewable based feedstocks."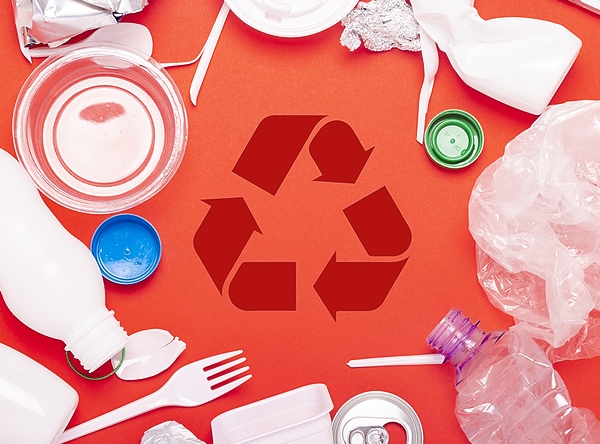 SUPs account for a third of all plastics consumed globally (Photo: PantherMedia/Surgay)
Brazilian polyolefin producer
Braskem
(São Paulo;
www.braskem.com
), which ranked 11th in the Minderoo table with a total of 2.6 mn t of SUP waste in 2021 – a reduction of 400,000 t from 2019 – said it is engaging in voluntary commitments with industry organisations across the globe to reach multiple sustainability goals. A company spokesperson detailed these targets, such as 100% of Braskem's industrial units adopting best practices for pellet control, including becoming an Operation Clean Sweep Blue member. "We are expanding the portfolio to include 300,000 t of products with recycled content by 2025 and 1 mn t of such products by 2030 (
PIE 30.01.2023
)." Additionally, the company seeks to recover 1.5 mn t/y of plastics waste by 2030 and expand the portfolio of bio-based polymers to 1 mn t/y by 2030.
Braskem added that it also recently created Cazoolo, a Circular Economy Packaging Development centre to support collective intelligence on sustainable packaging development.
Related
:
Plastics waste in the Arctic comes from all over the world
Top contributors choose silence
Oil giant Saudi Aramco declined to comment on its ranking in the latest report, and Thai PET company Indorama Ventures said, "We have no comment at this time," which could be considered a surprise as the Minderoo Foundation lists Indorama as one of the rare companies active in on-par recycling of PET in 2021, with 10% or 230,000 t. Almost all of the 2 mn t of on-par reclaim was mechanical recycling of PET bottles back into new bottles.

The report went on to call the Thai giant a "positive outlier" despite its ranking among top SUP producers, also listing it as one of the rare companies to be actively downcycling PET (300,000 t in 2021), predominantly into fibres for use in textiles.

Other top contributors – namely ExxonMobil, Dow, Sinopec, PetroChina, Reliance Industries, Alpek, and Ineos – chose to not comment on their consistent appearance in the list of highest SUP producers in the Minderoo reports.
16.02.2023 Plasteurope.com [252207-0]
Published on 16.02.2023