RECYCLING
Plastics recycling advances in Europe, Africa, South America / Equipment, material developments abound / Modifier launched for rPP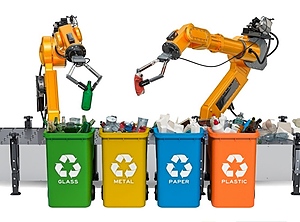 A novel, compact, and mobile materials recovery facility is being designed for use in remote places (Photo: Reclaim Consortium)
Plastics recycling is undoubtedly a challenge on a global scale. It is difficult to implement on a national level where waste generated in remote locations is too little to justify substantial recycling infrastructure. Difficulties also remain in major industries where product suppliers need innovation and cooperation to achieve net zero goals and reduce their environmental footprint.
In Greece, waste management is a difficult task in places in the country's islands, where locals have to send refuse to the mainland to be treated or processed. Both costly and inefficient, it is done because not enough waste is generated to justify substantial local infrastructure.
In South Africa, new Extended Producer Responsibility (EPR) regulations impact producers and importers of packaging and change how manufacturers, brand owners, retailers, and importers design, make, sell, and keep their products in the recycling loop, says
Shivern Reddy
, business development director in South Africa for packaging giant
CCL Industries
(Toronto, Canada;
www.cclind.com
).
Citing a report from Argentine environmental NGO
Circulo de Politicas Ambientales
(Buenos Aires,
https://circulodepoliticasambientales.org
), the country uses very little reclaimed material to manufacture new packaging, said
Nicolas Pell Richards
, director at
Reciclar
(Sarandi;
http://reciclarsa.com.ar
), said to be the largest domestic PET recycling company.
According to the report, Argentina's "food and beverage segment only uses recyclable post-consumer material (PCR) in some PET packaging, which represents 10% of total resin consumption. Post-consumer packaging waste is crucial as it represents approximately 30% of urban solid waste in Argentina and is a great source for recovering recyclable materials." The total volume of plastic recycled in 2021 amounted to 307,000 t, up 11% compared to 2020, according to a report issued by local NGO
Ecoplas
(Caba;
www.ecoplas.org.ar
).
Reciclar said it has expanded its capability to produce food-grade PET recyclate from post-consumer PET bottles with the addition of more equipment from Norwegian sorting technology specialist
Tomra
(Asker;
www.tomra.com
).
The company added two Autosort Flake units to its 22,000 m
2
facility. Three Autosort units at the facility carry out accurate detection and separation of plastic bottles in the pre-sorting stage. Now a total of three Autosort Flake models at the facility can sort plastic flake by both color and material.
The facility can process up to 600 mn plastic bottles per year and recover and sort more than 30,000 t/y of PET containers by color and material type. The Autosort Flake systems can create separate streams of crystal green or light blue PET flakes and HDPE flakes of different sizes and colors. The company produces about 18,000 t/y of plastic pelletsand PET, PP, and HDPE flakes, pellets, and strips.
Reciclar said about 95% of its operations is dedicated to recycling PET and HDPE recovered from waste originating from different parts of the country. The company noted that it diverts about 2,500 t of recyclable from landfills or nature every month, producing secondary materials with virgin-like qualities.
Reciclar claimed to be the only company in Argentina capable of producing food-grade recycled pellets, and its recyclate reportedly achieves the required quality for use in the production of new packaging and bottles with increased recycled content.
Taking recycling to where needed
In France, a supplier of medical products seeking to reduce its environmental footprint, hit net zero goals, and develop recyclable packaging has found a solution through collaboration with a non-profit organisation that develops plastics waste collection centres with the partner and produces recycled materials from the waste.
A novel compact and mobile materials recovery facility (MRF) is being designed for use in remote places where waste management is a difficult task or where the waste generated is not enough to justify substantial infrastructure development.
The concept represents an automated solution for the distributed and direct recovery of recyclables away from urban centers. The MRF is expected to enable the efficient recovery of recyclables with minimal staff. It will combine established mechanical recycling with AI-powered sorters in a container box that can be easily transported where needed and ready for operation within a few hours.
The MRF unit is being developed as part of the Reclaim project consortium funded by the EU's EUR 80 bn Horizon 2020 research and innovation programme (
https://www.eeas.europa.eu
). The system will be demonstrated and validated in real-life scenarios in Greece's Ionian islands. The equipment is expected to remain functional and sustainable for several years after the project ends.
Related
:
Value chain links seek to boost recyclate supply
The Spanish plastics technology centre
Aimplas
(Valencia,
www.aimplas.net
) is part of the European Reclaim project consortium and provides expertise in plastics recovery and the circular economy. Aimplas plans to contribute to the development of portable robotic requirements and equipment specification for the MRF, prioritising the recovery of different plastics and optimising system performance for the different use case scenarios.
The Reclaim project consists of three research and technology organisations, two universities, one robotics company, one innovation management company, an international association, and a regional authority. These include the
International Solid Waste Association
(ISWA, Rotterdam The Netherlands;
www.iswa.org
),
Robotic Environmental Solutions
(Heraklion, Crete, Greece;
www.robeso.gr
), and waste management service
Hellenic Recovery Recycling Corporation
(Herrco, Maroussi, Greece;
www.herrco.gr
).
French processor, Plastic Bank to recycle up to 100 t/y of marine waste
French ophthalmology and dermatology product specialist
Horus Pharma
(St-Laurent-du-Var;
www.horus-pharma.com
) has partnered with Canadian social enterprise
Plastic Bank
(Vancouver;
www.plasticbank.org
) in a long term commitment to recycle nearly 100 t/y of plastic waste from coastal areas and oceans.
Plastic Bank is a non-profit organization that gathers waste at its collection centres and then sorts and recycles the material into products fed back into the global supply chain under its brand name Social Plastic.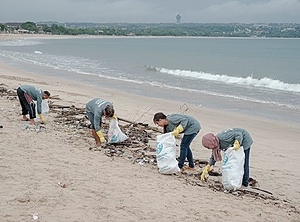 France's Horus Pharma is partnering with social enterprise Plastic Bank to recycle plastic waste from coastal areas (Photo: Plastic Bank)
Plastic Bank operates more than 600 collection centres, which are based in Africa, Latin America, and Southeast Asia and opened through partnerships. Partners such as German consumer goods giant
Henkel
(Düsseldorf;
www.henkel.com
) incorporate the resulting material into their own products as part of their initiatives to promote circularity and a more socially responsible supply chain (see Plasteurope.com of
23.11.2017
).
Horus Pharma CEO and co-founder
Claude Claret
said its partnership with Plastic Bank will ensure that the equivalent of 100% of the plastic sold for more than a dozen of its products is recycled and converted into Social Plastic. The cooperation is part of the company's environmental program to reach plastic net zero and develop recyclable packaging.
South Africa approves shrink sleeve label for PET recycling streams
CCL Industries has announced that its EcoFloat line of shrink sleeves have been approved for use in the South African beverage market after being successfully trialed in that country by PET recycling specialist
Extrupet
(Wadeville;
www.extrupet.com
).
Shrink sleeves typically made from PVC and PET have been problematic as a decoration mainly because they had to be removed from the package by hand to avoid contaminating the PET resin recycling stream, said Reddy, CCL's South African business development manager.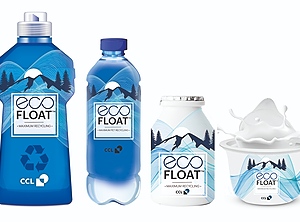 The EcoFloat shrink sleeve is made from low-density polyolefin material (Photo: CCL Industries)
The EcoFloat shrink sleeve is made from low density polyolefin material, which makes a difference in the crucial sink/float recycling step at a PET recycler, Reddy explained. The sleeve material automatically detaches from the bottle and floats, allowing for a clean separation from heavier PET flakes that sink to the bottom of the washing basin. The separation of the PET flake from the sleeve increases the yield of high-quality PET flakes that can be used in bottle-to-bottle recycling.
The label's approval is the first for a shrink sleeve decoration solution in the South African PET beverage market and will help boost recycling rates, Reddy said. CCL partnered with
Coca-Cola South Africa
to prove the feasibility of substituting EcoFloat for PET or PVC products. CCL says the polyolefin sleeves are also a recycling friendly match for PP and PE-based packaging, as they stem from the same plastics family.
CCL has a label production facility near Johannesburg that employs 42 people. The EcoFloat shrink sleeve has been introduced previously into markets in Europe and the US. It has been endorsed by industry associations such as the
European PET Bottle Platform
(EPBP;
www.epbp.org
) and the
American Plastics Recyclers
(APR, Washington, D.C.;
www.plasticsrecycling.org
) as a packaging label that allows for PET bottle-to-bottle recycling in a closed loop.
Milliken launches rPP modifier
US plastics additive manufacturer
Milliken
(Spartanburg, South Carolina;
www.milliken.com
) has introduced its DeltaFlow Viscosity Modifier formulation for increasing the melt flow rate of recycled polypropylene for injection moulding.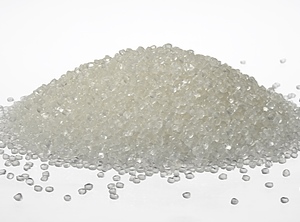 Milliken's new viscosity modifier concentrates are said to offer added value for recycled polypropylene (Photo: Milliken)
The additive is said to be like other viscosity-modification chemistry in the company portfolio of solid concentrates designed to help PP recyclers increase flow rate, reduce energy use, and enhance circularity. Resins with the additive are said to use the latest viscosity-modification chemistry and have lower volatile organic compounds and improved organoleptics. The formulation is considered non-dusting and allows for lower processing temperatures that can enable converters to improve processability and boost productivity.

The DeltaFlow grades enhance the properties of rPP, making it suitable for more applications. It enables rPP to feasibly replace virgin resin in a range of areas while meeting sustainability goals, said Allan Randall, global product line manager at Milliken.
30.01.2023 Plasteurope.com [251633-0]
Published on 30.01.2023