LEONI
Partial outages likely at Ukrainian sites / Task force to tackle production issues / Forecast for 2022 scrapped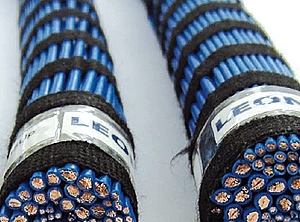 Following the semiconductor shortage and the pandemic, the company is now faced with war in Ukraine (Photo: Leoni)
Only a few days after publishing its forecast for fiscal 2022, which was optimistic considering the circumstances, German cable manufacturer
Leoni
(Nuremberg;
www.leoni.com
) has already withdrawn it. The executive board led by CEO
Aldo Kamper
said it now expects lower figures for sales, earnings, and cash flow due to the war in Ukraine. The company also admitted that it was impossible to predict whether EBIT will slip into the red again.
The executive board said it expects reduced production volumes and partial production losses for two plants in Ukraine, which the company will probably be unable to counterbalance in full. The plan is to set up temporary manufacturing operations at other plants without relocations, according to a spokesperson. "We have not given up on Ukraine yet."
The spokesperson told
Plasteurope.com
that the company is working "in close cooperation with our customers and suppliers" to manage current production interruptions at its two Ukrainian plants in Stryi and Kolomyja, which employ around 7,000.
The company has created a task force to analyse and evaluate the developments on site. "It is obvious that the production losses in the Ukraine can also have consequences for the availability of automotive supplier parts, especially in the European automotive industry, and in some cases already do," the spokesperson explained.
Media reports say German carmakers such as
Volkswagen
and
BMW
have been forced to cut domestic production due to a lack of cabling shipments from Leoni factories in Ukraine.
Quantification of war's impact
The affected revenues for 2022 in Ukraine are estimated at "below EUR 300 mn", those in Russia at "below EUR 100 mn". There might also be partial write-downs of assets in both countries amounting to around EUR 125 mn, the company noted.

Previously, despite the sale of the Industrial Solutions business unit at the beginning of the year, turnover in 2022 would have been slightly above EUR 5 bn and EBIT before special effects in the mid-double-digit million euro range. The company expected this to be largely offset by a further recovery in demand, particularly in the automotive sector, and a continuing high copper price. However, Leoni had already assumed in this forecast that there would be a marked year-on-year decline.

According to preliminary figures, revenue in fiscal 2021 was around EUR 5.1 bn versus EUR 4.1 bn the year earlier. EBIT, which was impacted by higher feedstock, energy, and logistics costs, fell some EUR 59 mn to around EUR 170 mn. A strong business performance towards the end of the year was said to have a particularly positive effect. What's more, production interruptions by vehicle manufacturers had put less pressure on the figures than initially expected. Leoni is scheduled to publish its final consolidated results on 23 March 2022.
17.03.2022 Plasteurope.com [249876-0]
Published on 17.03.2022
German version of this article...