LANXESS
Soot-free black pigments for recyclable packaging / Weak magnetic iron-manganese mixed oxides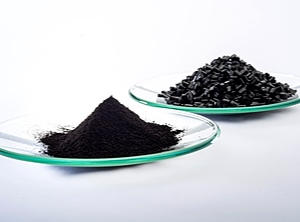 Soot-free and less magnetic black pigment (Photo: Lanxess)
Speciality chemicals group
Lanxess
(Cologne / Germany;
www.lanxess.com
) recently introduced the "Bayferrox 303 T", a soot-free black pigment for colouring black plastic that reflects 20% of near-infrared radiation (NIR), to make recycling black plastic packaging easier. The pigment makes identification of polymers more efficient with the aid of NIR detectors like those used for sorting waste. Lanxess said plastic packaging coloured with carbon black, which is largely in use today, does not reflect any radiation and, therefore, cannot be detected in sorting plants.
Currently, three main types of pigments are used to colour plastic packaging. Carbon black is the most commonly used pigment in terms of quantity, as it is inexpensive and has a high colour strength. According to Lanxess, so-called complex inorganic colour pigments (CICP) and the comparatively cheaper manganese ferrites (iron-manganese mixed oxides), which form the basis of the Bayferrox 303 T pigment, are suitable alternatives to carbon black due to their properties – because both reflect infrared light.
Bayferrox 303T is also characterised by reduced magnetic properties: magnetisable pigments can, for example, trigger false alarms during quality control in the food industry and thus disrupt the production process. Metal detectors cannot distinguish whether it is a pigment or a piece of metal in the edible product.
Not all black is the same
In the spirit of a functioning circular economy, more and more pigment and masterbatch manufacturers are offering NIR detectable black-coloured alternatives without carbon black, including
BASF
(see Plasteurope.com of
18.06.2020
),
Karl Finke
(see Plasteurope.com of
04.01.2021
),
Gabriel-Chemie
(see Plasteurope.com of
20.08.2019
),
Clariant
(see Plasteurope.com of
09.09.2019
),
Ampacet
( see Plasteurope.com of
15.05.2019
),
Rowa Group
(see Plasteurope.com of
28.09.2021
) and
Avient
– formerly
PolyOne
(see Plasteurope.com of
16.07.2019
).
Instead of carbon black, BASF, for example, uses neighbouring dark shades – including green, blue, violet and brown – for the black pigment "Sicopal Black K 0098 FK".
05.10.2021 Plasteurope.com [248642-0]
Published on 05.10.2021
German version of this article...