PLASTIC PACKAGING GERMANY
Environment ministry submits draft of new packaging law / Deposits for wider range of disposable bottles / Mandatory amount of rPET for one-way bottles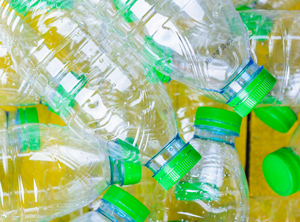 Guidelines for rPET in bottles are part of the draft (Foto: PantherMedia/Sorapop)
On 18 November 2020, the German federal ministry for the environment
BMU
(
www.bmu.de
) presented a draft amendment to the "VerpackG" packaging act. This is intended, among other things, to bring the requirements of the EU single-use plastics (SUP) directive and the EU waste framework directive into national law. The SUP directive (2019/904) includes provisions for a ban on plastic plates and cutlery, drinking straws, balloon sticks, plastic-cotton buds and EPS containers and cups (see Plasteurope.com of
28.03.2019
).
The draft bill requires food and drink for immediate consumption that comes in one-way plastic packaging or to-go cups to also be made available in reusable packaging. From 2025 onwards, the percentage of recycled plastics in disposable PET bottles will additionally be prescribed by law. As of 2025, an rPET component of 25% is required, rising to 30% in 2030.
The bill also specifies that the mandatory deposit on disposable bottles is to be extended to all one-way PET bottles and aluminium cans. Certain beverages such as sparkling and standard wines, mixed drinks, pure and mixed milks and vegetable juices have been exempt from the mandatory deposit.
Data collection on packaging and packaging waste is also to be broadened through a combination of new provisions in the packaging act and the environmental statistics act with the aim of providing a better overview of packaging used in Germany and the waste it generates. The draft bill has been submitted to federal states and industry associations for consultation.
New incentives for eco-friendly packaging
To reduce the quantity of packaging waste in Germany on a lasting basis, the ministry has launched numerous measures over the past few years aimed at avoiding superfluous one-way plastic products while boosting both the amount of returnable packaging and the recycling rates:
The ban on disposable plastic products (drinking straws, cotton buds, plastic cutlery, balloon holders and to-go cups and fast-food boxes in expanded polystyrene) will come into force in July 2021 (see Plasteurope.com of 11.11.2020).
More recycling of plastic packaging: since 2019, the mandatory recycling rate has been 58.5% and is set to rise to 63% in 2022. This quota will then apply to the amount of plastics waste that is actually recycled.
New incentives for environmentally friendly packaging: the licence fees for the dual systems for packaging waste must take into account the recyclability and the use of recycled material in packaging. In other words, manufacturers of packaging that can be readily recycled or that is made of recycled plastics will pay less.
Better identification of reusable packaging: in supermarkets, bottles with refundable deposits must be clearly marked as one-way or reusable bottles. This will enable consumers to make a more conscious choice between reusable and one-way bottles. Clearly legible signs will be required either on shelves or at another clearly visible point.
Reducing plastics exports: as of 2021, stricter regulations will apply for the export of plastic waste. This may only be freely traded in future if it has been cleaned and well sorted and is genuinely suitable for recycling. The export of difficult-to-recycle waste from the EU to Asia and other parts of the world will be prohibited.
The ban on plastic bags as of 1 January 2022 covers such products in film thicknesses of 15 µm to 50 µm. So-called t-shirt bags for fruit and vegetables and thicker plastic carrier bags are excluded from the ban (see Plasteurope.com of 04.12.2020).
10.12.2020 Plasteurope.com [246435-0]
Published on 10.12.2020
German version of this article...