WORLD PLASTICS COUNCIL
International alliance meets at "K 2019" / Advocacy is the priority / China's circular plans focus on technology and biopolymers / EPR schemes controversial
Leading global polymers producers founded the
World Plastics Council
(WPC;
www.worldplasticscouncil.org
) in 2014, and more than 50 representative executives had a general assembly at "K" to discuss strategies for challenges such as plastics pollution. The WPC now includes more than 20 member companies based in Africa, the Americas, China, Europe, India and the Middle East.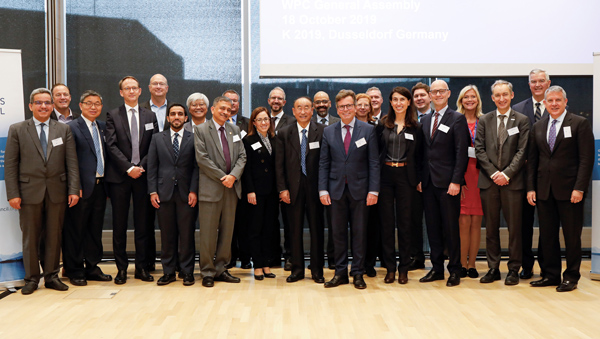 The World Plastics Council had its annual general assembly at K 2019 in Düsseldorf (Photo: PIE/Hauptmannl)
In 2019, two new companies joined the WPC – South Korea's Kolon Plastics and Saudi Arabia's Tasnee. The plastics producers involved work in a network with other industry players, NGOs and government agencies around the globe – and since 2019 also have official United Nations representation, such as at the UN Environment Assembly (UNEA), Basel Convention and the G7 and G20 meetings.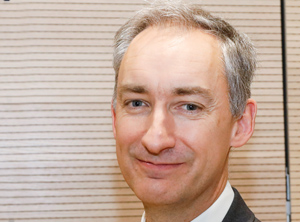 Jim Seward (Photo: PIE/Hauptmannl)
In a small press conference, the WPC, headed by
Jim Seward
, outlined the organisation's focuses. He noted the council sees its priority as an advocacy body such as at the aforementioned intergovernmental meetings, where it contributes to the debate internationally. The WPC points to the
Alliance to End Plastic Waste
(AEPW) – see Plasteurope.com of
17.01.2019
– to which all WPC members belong, as an action-based organisation. The council reaffirmed its interest in developing sorting and recycling technology, waste management systems and "solutions jointly together with other stakeholders." Seward spoke to
Plasteurope.com
in an exclusive interview just ahead of the WPC's general assembly – see Plasteurope.com of
16.10.2019
. He is senior VP Research & Development, Technology & Sustainability at
LyondellBasell
.
Big circular economy plans for a big country
Li Shousheng (Photo: PIE/Hauptmannl)
A notable progression during the WPC's lifetime are the commitments from China. The chairman of the
China Petroleum and Chemical Industry Federation
(CPCIF, Beijing;
www.cpcia.org.cn/cpcif
) and part of the WPC executive committee,
Li Shousheng
, who also spoke to Plasteurope.com ahead of the WPC assembly – see Plasteurope.com of
17.10.2019
– said at the press conference that the petrochemical industry also plays a part in solving the problem of plastics waste. At the same time, the contribution of plastics to daily life cannot be ignored, and the Chinese government has taken actions to improve waste management.
He said the two priorities are technology innovation – for example, bioplastics like PLA – and working to form a kind of collaboration across the value chain. Li made it clear that he does not agree with extended producer responsibility (EPR) schemes, which are currently a hot topic in Europe and elsewhere. It is not wholly the producers' responsibility to solve the issue of plastics pollution, he said. Instead it requires a collaboration of society, the central government and the value chain.
China's commitments are impressive. Li explained how there is currently a high level consumption of plastic packaging and especially single-use plastic (SUP) products in China, with the need to change this. One solution he pointed out is labelling products as recyclable to help manage end-of-life plastics collecting and sorting. He praised Japan as an example of a country having good systems in place, where there has been collaboration to solve some plastics waste issues, and sorting and recycling are running well. Li said you rarely see litter in Japan as a result of this. He added that the Chinese government is open to learning from other countries.
WPC executive committee member
Mark Nikolich
(
Braskem
) told Plasteurope.com it is important that the council does not just put the blame on countries in Asia, but recognises the contribution from other continents too. This includes his home country, the US, where so far not enough has been done for recycling plastics waste.
Ajay Shah
(
Reliance Industries
), also part of the WPC executive committee, drew attention to several projects in India and Southeast Asia, such as river cleanups on the Ganges river. It is one of the world's ten rivers that has been identified as transporting a major quantity of plastics into the oceans.
21.10.2019 Plasteurope.com [243702-0]
Published on 21.10.2019
German version of this article...