MARINE LITTER
Ocean Cleanup vehicle is now catching and retaining plastics / Design work commences on a new full-scale system / Recycling on land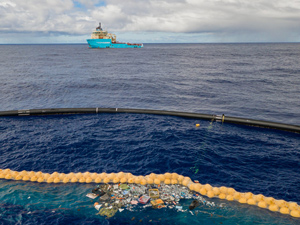 Boyan Slat's system for collecting marine litter is up and running (Photo: TOC)
Four months after its return to the "Great Pacific Garbage Patch" in June 2019 (see Plasteurope.com of
07.06.2019
), the latest prototype of an oceangoing cleanup vessel operated by
Ocean Cleanup
(TOC Rotterdam / The Netherlands;
www.theoceancleanup.com
) is now successfully catching and retaining plastics debris, the project spearheaded by its founder, Dutchman
Boyan Slat
, reports. The vessel was this time launched from Vancouver, British Columbia / Canada.
With an improved design, the organisers say "System 001/B" is using the natural forces of the ocean to catch and concentrate plastics, thereby confirming the most important principle behind the cleanup concept conceived in 2012 and presented in a viral "Ted" talk on YouTube in early 2013 (see Plasteurope.com of
03.04.2013
). Along with visible debris such as commercial fishing nets, to the team's surprise Ocean Cleanup also is seen to be capturing microplastics as small as 1 mm.
During the prolonged stay in drydock after problems were discovered at the beginning of this year (see Plasteurope.com of
08.01.2019
) project engineers made modifications that included slowing down the system with a parachute sea anchor – which allows for faster-moving plastic debris to float into the system – and reducing overtopping by increasing the size of the cork line. The next step will be designing "System 002", planned to be a full-scale cleanup apparatus that will retain the collected plastics, one of the project's biggest problems to date.
Ocean Cleanup's medium-term goal is to return the collected litter to land for recycling. Most ambitious, undoubtedly, is the hope of achieving the model projection that a full-scale system rollout could clean up 50% of the garbage patch between California and Hawaii within five years. The project's many critics are sceptical.
10.10.2019 Plasteurope.com [243599-0]
Published on 10.10.2019
German version of this article...