MARINE LITTER
New glitch for Ocean Cleanup / End section becomes detached / Vehicle to be towed to Hawaii for damage assessment / Boyan Slat still confident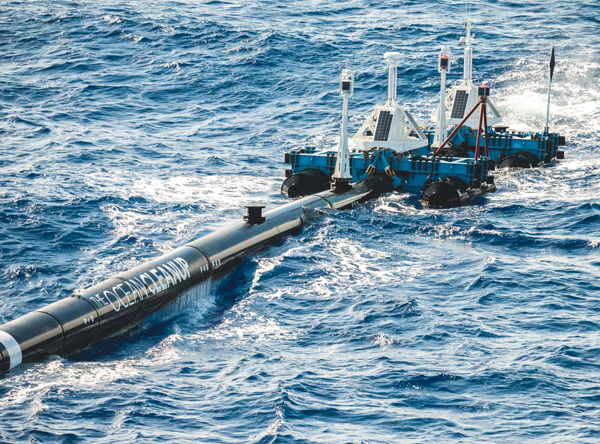 The Ocean Cleanup vessel needed repairs after an end section detached from the rest of the system (Photo: TOC)
After a disappointing start, the ambitious
Ocean Cleanup
(Delft / The Netherlands;
www.theoceancleanup.com
), a project of Dutchman
Boyan Slat
designed to clear plastics waste from the "Pacific Gyre", has now suffered another disappointment. After an inspection to determine why the collected waste was being discharged back into the ocean, the offshore crew discovered that an 18 m end section had become detached from the system.
In early December 2018, the project team acknowledged that the solar-powered marine vessel made of UHMW-PE was not working as it should and would be towed to its starting point of San Francisco, California / USA for overhaul – see Plasteurope.com of
21.12.2018
. With the redundancy in the system's sensors and satellite communication – mounted on both end sections – compromised, it was decided to tow the 600 m floating plastic array with attached boom to Hawaii for an initial damage assessment. If unable to return to California on its own, "System 001", as the first ocean-going device was named in anticipation of more to follow – Slat's vision is to deploy a fleet of 60 more – may be towed back on a barge.
"Due to a structural malfunctioning of the cleanup system, today we made the decision to return to port earlier than planned," Slat said in a 29 December 2018 statement. While too early to confirm the cause of the malfunction, he said the hypothesis is that material fatigue, combined with a local stress concentration, caused a fracture in the HDPE floater. Both the 580 m main section and the end section are "completely stable and all bulkheads are intact," he stressed. Some of the material, including the pressure-resistant pipes made of PE 100-RC and sheet for the impermeable "skirt" that hangs 3 m below the device's floating buoys to prevent waste from escaping, were supplied by an Austrian company – see Plasteurope.com of
14.09.2018
.
"Being in port," Slat said, "provides us with the opportunity to make upgrades to the system with the aim of solving the plastic retention issue." Armed with "terabytes of data," the Ocean Cleanup team hopes to develop the required upgrades. On the journey to Hawaii, it will be accompanied by a transporter from the
Maersk
shipping group, one of the project's partners. The ship will carry around 2,000 kg of plastics that have been recovered from the patch so far.
As could be expected, with the latest mishap, many of the project's detractors have been rubbing their hands in schadenfreude and suggesting it should be abandoned. Outwardly at least, the organisers remain confident that their persistence will pay off. "Considering the things we have been able to prove in the past few months and considering the problems that we have faced, they seem quite solvable," Slat said. The crew hopes to have the vehicle "back in the patch" sometime in 2019, he said.
08.01.2019 Plasteurope.com [241466-0]
Published on 08.01.2019
German version of this article...