MARINE LITTER
US law aims to tackle marine pollution crisis / "Marine Debris Program" extended through 2022 / International agreements with major polluters encouraged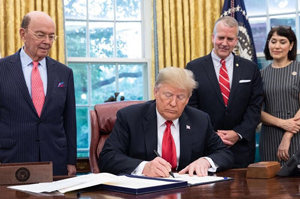 Donald Trump signing the "Save Our Seas Act" at the White House (Photo: Dan Sullivan)
US president
Donald Trump
has signed legislation to boost the country's efforts in cleaning up the marine litter plaguing its seas, shores and inland waterways. The "Save Our Seas Act", which was introduced in March 2017, was passed unanimously by the senate in August 2017.
Senator
Dan Sullivan
, who was one of the co-sponsors of the bill, commented: "This bill will serve to strengthen the federal response capabilities to marine debris disasters, combat land-based marine debris resources and encourage interagency coordination in stemming the tide of ocean trash and importantly encourage the Trump administration to pursue international agreements with regard to this challenge."
The act reauthorises the
National Oceanic and Atmospheric Administration
's (NOAA) "Marine Debris Program" for another five years – through 2022 – and provides funds and resources to help states declare and respond to severe marine debris events.
It also encourages the
US Department of State
to work with other countries that are a major source of marine pollution and support research into improved waste management infrastructure.
The
American Chemistry Council
(ACC, Washington, D.C. / USA;
www.americanchemistry.com
) applauded the "thoughtful, well-designed" legislation. "We have long supported the Save Our Seas Act, bipartisan, bicameral legislation that will focus US resources, technologies and investments in places where they are needed most," said ACC president and CEO
Cal Cooley
.
According to non-profit environmental advocacy group
Ocean Conservancy
(Washington, D.C.;
www.oceanconservancy.org
), more than half of the estimated 8m t of plastics littering the world's oceans come from just a few countries in Southeast Asia. The organisation said that scientists estimate that China, Indonesia, the Philippines, Thailand and Vietnam contribute more than half of the 8m t of plastics waste that enters the oceans every year.
While signing the Save Our Seas Act, Trump added that commitments to cooperate on addressing land- and sea-based pollution and improve waste management have also been included in the pending US-Mexico-Canada trade agreement (USMCA), noting that this is the first time a trade deal has incorporated pledges of this nature.
However, at this year's G7 summit held in Canada, the US (along with Japan) declined to sign the "Ocean Plastics Charter" annex, which comprises five commitments to address the marine pollution problem – see Plasteurope.com of
13.06.2018
.
05.11.2018 Plasteurope.com [241032-0]
Published on 05.11.2018
German version of this article...