MARINE LITTER
Industry giants to contribute USD 90m to preventing ocean plastics waste / Ellen MacArthur announces global commitment for packaging / "Our Ocean" 2018 conference in Bali
Just ahead of the fifth "Our Ocean" conference that ran from 29-30 October 2018 in Bali / Indonesia, US investment management firm
Circulate Capital
(Brooklyn, New York;
www.circulatecapital.com
) announced that it expects to receive USD 90m in funding for its strategy to combat marine litter. The funding is coming from leading chemicals, plastics and consumer packaged goods companies, including
Coca-Cola
(Atlanta, Georgia / USA;
www.coca-cola.com
),
Danone
(Paris / France;
www.danone.com
),
Dow
(Midland, Michigan USA;
www.dow.com
),
PepsiCo
(Purchase, New York;
www.pepsico.com
),
P&G
(Cincinnati, Ohio / USA;
www.us.pg.com
) and
Unilever
(Rotterdam / The Netherlands;
www.unilever.com
). Definitive agreements with the companies are expected to be formalised by early 2019.
The US investment firm was formed following the commitment by
Closed Loop Partners
(New York, New York / USA;
www.closedlooppartners.com
),
Ocean Conservancy
(Washington, D.C. / USA;
www.oceanconservancy.org
) and corporate partners at the 2017 Our Ocean conference in Malta, with the goal of creating financing for ocean plastics waste prevention – see Plasteurope.com of
20.10.2017
.
Ellen MacArthur Foundation launches "A line in the sand"
On 29 October at the Our Ocean conference, the
Ellen MacArthur Foundation
(EMF, Cowes / UK;
www.ellenmacarthurfoundation.org
) officially launched a global commitment named "A line in the sand" to "eradicate plastics waste and pollution at the source." It has been signed by over 290 organisations, which EMF says represents 20% of all plastic packaging produced worldwide. The commitment is led by the EMF, in collaboration with the
UNEP
, and includes packaging producers such as
Alpla
(Hard / Austria;
www.alpla.com
),
Mondi
(Johannesburg / South Africa;
www.mondigroup.com
) and
Amcor
(Hawthorn / Australia;
www.amcor.com
), plastics producers including
Novamont
(Novara / Italy;
www.novamont.com
) and
Borealis
(Vienna / Austria;
www.borealisgroup.com
) and waste management specialist
Veolia
(Paris / France;
www.veolia.com
).
Associations, governments and municipalities are also among the signatories. In Europe, this includes the governments of France and the UK, the
Ministry of Environment and Energy Transition
of Portugal, the Scottish government and the Walloon government. Although it welcomes the EMF's intentions to tackle marine litter,
European Plastics Converters
(EuPC, Brussels / Belgium;
www.plasticsconverters.eu
) has not joined the list. EuPC says the global commitment "has been drafted only by a few individuals without consulting the plastics converting industry." It also stresses that around 80% of the global market comprises brands that have not signed up and there are no signatories from regions "where the problems are the biggest and where educational campaigns are desperately necessary."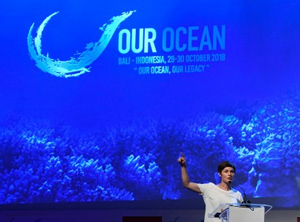 Ellen MacArthur speaking at the 2018 "Our Ocean" conference in Bali (Photo: Ministry of Marine Affairs and Fisheries Republic of Indonesia)
To ensure credibility and transparency, the commitment sets a clear minimum ambition level for signatories (to be reviewed every 18 months), common definitions on all commitments and annual reporting on progress. It will build on the G7 plastics charter – see Plasteurope.com of
13.06.2018
– the EU's plastics strategy – see Plasteurope.com of
19.01.2018
– the "
Commonwealth Blue Charter
" and the
UN
's community of "
Ocean Action
".
"We know that cleaning up plastics from our beaches and oceans is vital, but this does not stop the tide of plastic entering the oceans each year. We need to move upstream to the source of the flow," said
Ellen MacArthur
.
The three targets of the commitment are
eliminating problematic/unnecessary plastic packaging and moving from single-use to reuse packaging,
innovating to ensure 100% of plastic packaging can be reused, recycled or composted by 2025,
circulating the plastic produced by increasing the amounts of plastics reused/recycled to be made into new packaging and products.
European Commission launches global partnership with aquariums
The EU announced a global cooperation with the UNEP to fight marine litter at the Our Ocean 2018 conference. Environment, Maritime Affairs and Fisheries commissioner Karmenu Vella said, "The European Commission has been working for 18 months to instigate and build this global coalition. Aquariums are a window to our ocean." The target is to have at least 200 aquariums by 2019 raising awareness about plastic pollution. Measures can include organising permanent activities in facilities and changing procurement policies – for example, by eliminating all single-use plastics in cafeterias and stores.

From 25-27 October, Vella led a delegation of over 40 representatives of EU businesses from different sectors to Indonesia as part of the EU's "Circular Economy Missions". These missions are high-level political and business meetings to promote sustainable and resource-efficient policies as well as to open markets for "green" European companies.
Dow campaign to clean up waste in waterways and beaches
In addition to its financial commitments to Circulate Capital, earlier in October Dow launched a campaign to clean up beaches and waterways in more than 50 locations worldwide. The #pullingourweight campaign called on Dow's employees, families, friends and customers to remove at least 4 lb (around 1.8 kg) of waste per person – the average amount of waste per capita generated each day, according to
World Bank
data from 2012. More than 4,500 participants joined in.
CEO
Jim Fitterling
noted that Dow has long supported the Ocean Conservancy's "International Coastal Cleanup". For the #pullingourweight campaign, Dow collaborated in Europe with Spanish compounder and masterbatch producer the
GCR
group (Tarragona;
www.gcrgroup.es
) and Spanish packaging producer
Plasticos Romero
(Murcia;
www.plasticosromero.com
) to produce 128,000 collection bags made of recycled plastic for Ocean Conservancy cleanups across the world.
e-Service
:
EMF's "New Plastics Economy Global Commitment" including the list of signatories (October 2018) as a
PDF file
02.11.2018 Plasteurope.com [241004-0]
Published on 02.11.2018