WANHUA
Two isocyanate acquisitions / Swedish plant manufacturer Chematur and China's Connell Polyurethane
After a long break, the world market leader in isocyanate
Wanhua Chemical
(Yantai, Shandong / China;
www.wanhuagroup.com
) is on a shopping spree again. The Chinese company acquired not only MDI/TDI process specialist and plant manufacturer
Chematur Engineering
(Karlskoga / Sweden;
www.chematur.se
), but also a majority stake in the smaller Chinese MDI producer
Connell Polyurethane
. Connell's current plans for a 400,000 t/y plant mean that Wanhua would strengthen its leading position and increase its distance from world number two,
BASF
(Ludwigshafen / Germany;
www.basf.com
).
Wanhua is paying CNY 925m (just under EUR 120m) for Chematur, which has expertise that includes plants for hydrogen peroxide and bioethanol derivatives in addition to MDI and TDI. In 2018, Chematur generated sales of SEK 115m (approximately EUR 10m) and an operating profit of SEK 22.4m.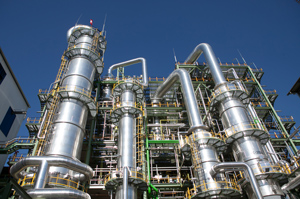 The TDI-2 plant in Hungary is currently shut down for maintenance (Photo: BorsodChem)
Connell Polyurethane operates a plant for the MDI precursor aniline in the northern Chinese province of Jilin. Since 2016, additional billion-yuan plans have been in place for MDI production capacities in Fuzhou, Fujian – based on Chematur technology. Further plans exist for production capacities for 55,000 t/y of formaldehyde and 360,000 t/y of aniline, for which the authorities have already given the go-ahead and which are scheduled to be operational by 2021. However, construction does not appear to have started yet.
According to
Plasteurope.com
's Polyglobe database (
www.polyglobe.net
), Wanhua operates global capacities totalling 2.75m t/y of MDI and TDI, which is closely followed by BASF with 2.62m t/y excluding the German company's JV shares in China. In Europe, the MDI and TDI plants located at Wanhua's isocyanate producer
BorsodChem
(Kazincbarcika / Hungary;
www.borsodchem-group.com
) are still down for maintenance. However, these are expected to be restarted in mid-August if everything goes according to plan.
12.08.2019 Plasteurope.com [243128-0]
Published on 12.08.2019
German version of this article...