TOMRA
Launch of sorting unit for mixed plastics waste / High-purity fractions from contaminated refuse
Sorting technology specialist
Tomra
(Asker, Norway;
www.tomra.com
) launched its Innosort Flake unit that enables flake sorting by polymer, colour, and transparency at high throughputs. The technology is also suitable for highly contaminated post-consumer plastics waste, the company said.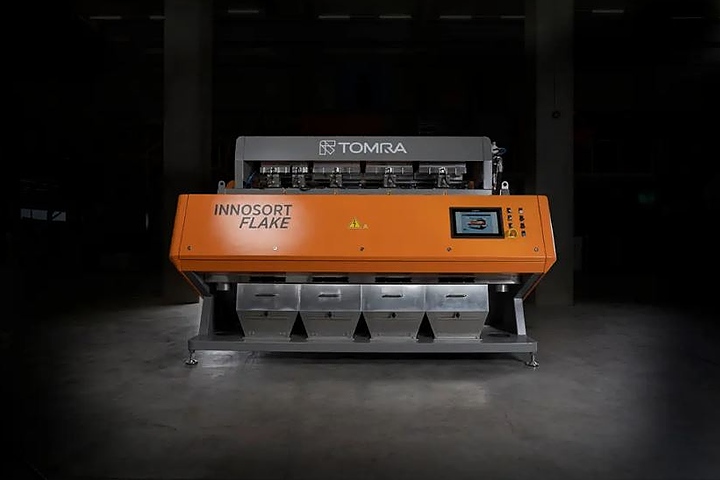 The company's new Innosort Flake machinery is geared towards higher purity in recyclate (Photo: Tomra)
The machinery is equipped with advanced near-infrared (NIR) spectrometer technology that can detect even highly contaminated polymers, which according to Tomra would otherwise be lost or downcycled. 
Enhanced optics enable the machinery to differentiate between millions of colours, the company said, while the high contrast imaging allows it to detect white opaque and natural, transparent, and translucent flakes. 
Mixed plastic fractions that have been shredded and washed can be sorted by the Innosort Flake unit into clean PET, polypropylene, polyethylene flakes along with other materials that meet the requirements for high-quality post-consumer recyclate.
Related
:
Tomra, Ineos Styrolution team up on PS food packaging reclaim project
The unit is designed to simultaneously sort any colour or polymer. It comes with up to four chutes and a changeable illumination background that makes it possible to run multiple sorting and recovery steps in a single machine, Tomra said.
The company added that the new design gives unrestricted access to the machine's components for maintenance with little downtime.
17.11.2023 Plasteurope.com [254014-0]
Published on 17.11.2023