TEKNOR APEX
PA 6 compounds with low moisture intake / Metal-replacement applications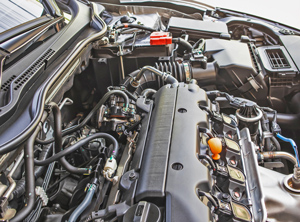 Teknor Apex's new PA compounds can be used to replace metal in certain automotive applications (Photo: Teknor Apex)
Plastics compounder
Teknor Apex
(Pawtucket, Rhode Island / USA;
www.teknorapex.com
) has developed a series of PA 6 compounds with lower moisture uptake than standard grades, allowing for better property retention after conditioning. The "Creamid" P compounds absorb nearly one third less water at saturation compared to standard PA grades, provides 15-25% improved tensile properties in the conditioned state and also displays higher flow and excellent surface characteristics, even in highly glass-filled formulations, Teknor Apex said.
The US-based company, which has designed the compounds to be used as structural components in metal-replacement applications, will introduce the first two Creamid P grades at the upcoming "K" (
www.k-online.com
) trade fair taking place in Düsseldorf / Germany from 16-23 October. These first compounds, one with 30% glass fibre content and one with 50%, exhibit (dry as moulded) about 80% reduction in water uptake after 24 hours compared to standard PA 6, and about 30% lower upon saturation. In addition, both grades – "Creamid P2H7G6" and "Creamid P3H2G10" – display higher tensile elastic modulus and strength at break.
"The improved tensile properties of Creamid P compounds enable them to meet the demands of certain structural applications where, traditionally, PA 6 compounds did not perform due to high moisture uptake," said
Markus Krippner
, director of new business development for engineering thermoplastics. "In some cases they may provide a practical alternative to PA 6.6 compounds as well."
Teknor Apex added that in spiral flow tests, the compounds exhibited higher flow than comparable grades of standard PA 6, yet similar levels of mould shrinkage. This enables the materials to be processed with existing equipment and tooling.
25.09.2019 Plasteurope.com [243410-0]
Published on 25.09.2019
German version of this article...