PLASTIC FANTASTIC
Waste not, want not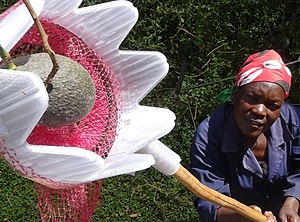 Enough of that low-hanging fruit (Photo: Loughborough University)
Need a long-handled picker for those prime, hard-to-reach pieces of fruit? A device that uses wave power to bail water out of your boat ? Then the UK's Loughborough University has your back. And they are doing it with 3D printers and used bottles.

The university said its Circular Plastics project runs until December 2021 and aims to support local African businesses, such as those in farming, fishing, and construction, by transforming plastic bottles into useful products. To create the required tools, plastic bottles are sourced from communities in Kenya, Rwanda and Nigeria and then processed into 3D-printer filament that is then made into purpose-built objects.

Another example of what the project can produce serves people who need to dredge sand for building projects. Here, the 3D printers can whip up adapters that fit on the types of buckets used locally. Other products available include supplies for farming fish and a device to optimise machetes for peeling produce.
15.10.2021 Plasteurope.com [248802-0]
Published on 15.10.2021