PLASTICS WASTE
Collaboration to establish 11 waste plastic-to-hydrogen plants in northwest UK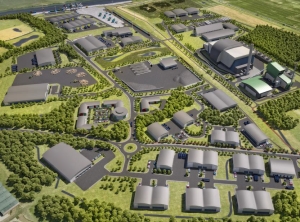 The Protos energy hub site is nearly 22 hectares -- earlier in 2019, Peel, Waste2Tricity and PowerHouse signed a deal for a 124-year lease on a plot here (Image: Protos)
Three companies are collaborating to invest GBP 130m (EUR 142m) in 11 waste plastic-to-hydrogen plants across the UK. Development group
Peel Environmental
(Manchester / UK;
www.peelenvironmental.co.uk
), electricity firm
Waste2Tricity
(London / UK;
www.waste2tricity.com
) and technology provider
PowerHouse Energy
(Bingley / UK;
www.powerhouseenergy.net
) said the low-cost hydrogen could be used to power buses and heavy goods vehicles, before being rolled out to cars.
The partners will use PowerHouse Energy's "Distributed Modular Gasification" (DMG) thermal treatment technology, which produces hydrogen from unrecyclable used plastics.
The first plant will be located at Peel's Protos site near Ellesmere Port in Cheshire. In April 2019, it was announced that Peel, Waste2Tricity and PowerHouse had signed an agreement for a 124-year lease of a plot on the Protos energy hub site. Peel said it is looking to develop a closed loop system at Protos where plastics are recycled on site with the leftover material used to create hydrogen.
04.09.2019 Plasteurope.com [243326-0]
Published on 04.09.2019