PLASTICS MACHINERY
Euromap reports declining business / Ray of hope in increasing use of recycled materials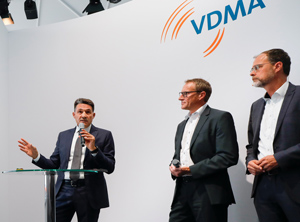 Representatives of the European machinery industry Luciano Anceschi, Michael Baumeister and Thorsten Kühmann (from left) report that production volume will drop worldwide (Photo: PIE/Hauptmannl)
The report of European plastics machinery manufacturers on the business situation on the eve of the "K 2019" trade fair in Düsseldorf / Germany was full of minus signs.
Luciano Anceschi
, chairman of European industry association
Euromap
(Frankfurt / Germany;
www.euromap.org
), predicted a decline in global production value of around 10% compared to the previous year, from EUR 36.8 bn to EUR 33.1 bn.
The head of shredder manufacturer
Tria
(Cologno Monzese / Italy;
www.triaplastics.com
) added that the downward trend was present in all regions and sectors and that new orders had also continued to decline across the board, with a further 5% decline to around EUR 31.5 bn expected by 2020.
With their own expectation of a 10% decrease for 2019, European machinery manufacturers see themselves on par with their intercontinental competitors, as their exports are predicted to drop by 7.5% for the current year. For China and the US alone – two key export markets – decreases of 6.8% and 12% are expected, respectively.
Concrete reasons include an economic slowdown, the decline in manufacturing in large parts of vehicle production, uncertainty regarding the future of individual propulsion strategies and international trade disputes. In view of the small volume of the UK market, Brexit only has a subordinate influence, according to Anceschi.
Euromap VP
Michael Baumeister
found a ray of hope in the analysis. "The use of recycled materials is the biggest driver of innovation since digitalisation," said the managing director of machinery manufacturer
Brückner
(Siegsdorf / Germany,
www.brueckner.com
). He added that the goal of using 10m t of recyclate in 2025, amounting to around 20% of plastics used in Europe, is driving the market.
18.10.2019 Plasteurope.com [243681-0]
Published on 18.10.2019
German version of this article...