MIGROS
Retailer launches household plastics collection project in Switzerland / New sorting facility planned with Inno Recycling
At the end of June 2020,
Migros
(Zurich / Switzerland;
www.migros.ch
), the largest Swiss retailer with consolidated sales of CHF 28.7 bn (EUR 26.7 bn), is launching a project intended to take domestic plastics recycling to the next level. For the first time, the Swiss population can collect plastics waste at home using the company's waste bag and dispose of them at one of the 1,100 Migros collection points.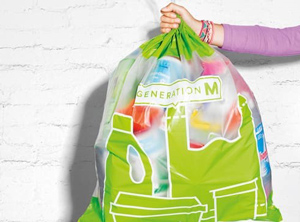 Migros' collection bag is available in three sizes – the largest has a volume of 60 litres (Photo: Migros)
PET beverage bottles will continue to be collected separately for recycling. Apart from that, Migros will accept essentially all plastic packaging waste such as carrier bags, stretch, shrink and cling film, yoghurt cups as well as containers for dairy products, detergents and trays. The Migros collection bag is made from 85% recycled plastics, with virgin materials used only for the ink, the drawstring and the additives.
The project will be launched on 29 June 2020 in Lucerne. Geneva, Neuenburg-Freiburg, Waadt and Wallis will follow at the end of August. By spring 2021, the new disposal points should be provided by all regional Migros cooperatives. "Our goal for the recycling launch across Switzerland is to reuse over 50% of the plastics waste collected for packaging and products. We want to reach around 70% in the long term," said Migros, without indicating specific figures.
The Swiss retailer is partnering with two plastics recyclers to produce new packaging at its own facilities, including syrup bottles made from 100% recycled PET and detergent containers from an unspecified material.
Inno Recycling
(Eschlikon / Switzerland;
www.innorecycling.ch
) will take over sorting and
Inno Plastics
(Eschlikon;
www.innoplastics.ch
) will handle recycling. The two sister companies currently operate facilities with 38,000 t/y plastics recycling capacity, from which 16,000 t/y of recyclate are produced, among other things.
Together with Inno Recycling and Inno Plastics, Migros is now planning a modern sorting plant for mixed plastics material to be built at a central location in Switzerland. Regarding the intended capacity and start-up date, the company said it was too soon to say.
There's a reason why the partners are working to boost a domestic circular economy – with more than 700 kg of waste produced per person annually, Switzerland is among the countries generating the most waste per capita in the world. Currently, only about half of that is recycled, and only PET waste collection is legislated. Though Migros emphasises the sustainability of its project, demands to strengthen a circular economy are getting louder. Recently, the Environment, Spatial Planning and Energy Committee of the Swiss National Council launched an initiative aimed at changing environmental protection laws (see Plasteurope.com of
27.05.2020
).
30.06.2020 Plasteurope.com [245386-0]
Published on 30.06.2020
German version of this article...