EXXONMOBIL
Design of new products with recycled polyethylene content / Collaborations with several industry partners
ExxonMobil
(Baytown, Texas / USA;
www.exxonmobil.com
) has launched three new polyethylene products that incorporate recycled material. The products – heavy duty sacks, stand-up pouches and collation shrink film – have been developed in separate collaborations with other industry partners.
In the first partnership with
Reifenhäuser
(Troisdorf / Germany;
www.reifenhauser.com
), the companies have developed heavy duty sacks using up to 37% multi-recycled PE from prior sacks in combination with ExxonMobil's virgin performance polymers "Exceed" XP and HDPE. For example, for a five-layer heavy duty sack film, the formulation contains rPE in the core and Exceed XP in the skin-layers, retaining the film's properties while also delivering high-efficiency processing. ExxonMobil said tests to date have proven that the material is well suited for heavy duty sacks that hold semi-dry or dry goods.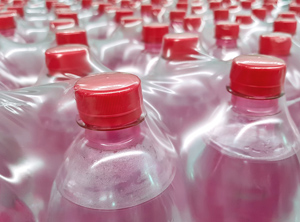 ExxonMobil and W&H have created a polyolefin collation shrink film, such as for bottle wrapping, which contains 30% rPE (Photo: ExxonMobil)
The second project was undertaken with
Hosokawa Alpine
(Augsburg / Germany;
www.hosokawa-alpine.com
),
Erema
(Ansfelden / Austria;
www.erema.at
) and
Henkel
(Düsseldorf / Germany;
www.henkel.com
). The newly created flexible pouches combine 30% recycled PE with 70% virgin PE and are said to be well suited for non-food applications, such as detergents. ExxonMobil said the full PE stand-up pouch films based on its polymers deliver comparable performance to multi-polymer structures that contain BOPP, BOPET or BOPA, making them particularly suitable for food applications. The films incorporated Henkel's "Loctite" Liofol solvent-free adhesives and were fabricated on Hosokawa Alpine's mono-axial film orientation (MDO) lines using its patented trim reduction for in-line orientation (TRIO) technology. Erema's Intarema "TVEplus" extruder technology was employed to recycle the used pouches so that the rPE could be included in new laminated stand-up pouch packaging for non-food applications.
In the third collaboration, ExxonMobil worked with
Windmöller & Hölscher
(W&H, Lincoln, Rhode Island / USA;
www.whcorp.com
), its partner of nearly 20 years, to create a 40-micron, five-layer polyolefin collation shrink film that includes 30% rPE. The films include Exceed XP and "Enable" PE as well as LDPE, which ExxonMobil said gives the film its toughness, holding force and shrink performance for high-integrity packaging and storage stability at thinner gauge. Leading plastic film and packaging producer
Grupo Armando Alvarez
(Torrelavega / Spain;
www.armandoalvarez.com
) has validated the polyolefin shrink film for packaging 6 x 1.5L bottles.
28.10.2019 Plasteurope.com [243698-0]
Published on 28.10.2019
German version of this article...