CORONAVIRUS PANDEMIC
Start-up mentality in plastics processing sector / Creative solutions to supply bottlenecks for masks and medical supplies / More nonwovens production required
Observing hygiene rules and social distancing has become mainstream now. Mask requirements are now being regularly issued in different regions of Europe to protect citizens from infection as much as possible. At the same time, frontline healthcare workers must have the necessary personal protective equipment in order to maintain a functioning healthcare system. What can be done if this protection is not available to everyone?

Creativity is called for in these times – DIY is the motto, and additive manufacturing is becoming a preferred production process when it comes to urgently needed face shields. Even industry giants are displaying a start-up mentality, with new production lines being built virtually overnight. "Don't take a long time – just do it" is the watchword, even at the risk that the resulting mask comes in the form of a simple coffee filter. Because one thing is clear to everyone, masks are in short supply.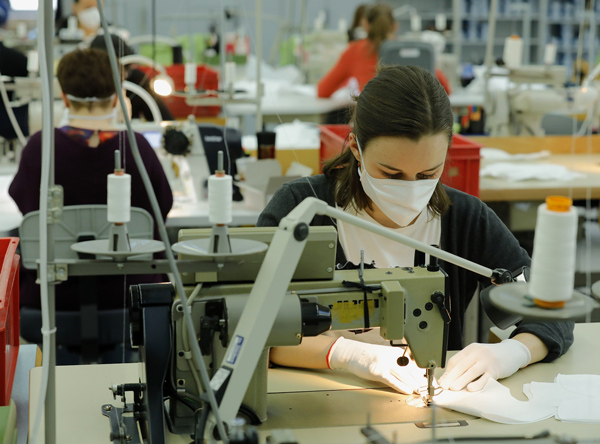 RKW and Sporlastic are aiming to produce around 750,000 masks per week (Photo: RKW)
The fact that this brings together teams from different industries is demonstrated by the "Fight" consortium, in which film manufacturer
RKW
(Frankenthal / Germany;
www.rkw-group.com
) is collaborating with a specialist for bandages and braces,
Sporlastic
(Nürtingen / Germany;
www.sporlastic.de
) and other partners to produce "FFP2" (similar to "N95") protective masks. RKW group is providing a laminate from its plant in Gronau / Germany, in which a spunbonded nonwoven is joined with a melt-blown polypropylene. The laminate is designed to meet the filter material requirements for coronavirus-safe FFP2 masks.
Another 50,000 surgical masks per day will soon be produced on the production lines that the
Fraunhofer Institute for Production Technology IPT
(Aachen / Germany;
www.ipt.fraunhofer.de
) is now working on in collabortion with
IBF Automation
(Freudenberg / Germany) and printing company
Moss
(Lennestadt / Germany). Moss' core business is actually print work for trade fair construction and retail, but the coronavirus pandemic has freed up capacity in the company's sewing department. The declared goal of the project partners is to start producing the nonwoven masks in the next several weeks.
Machinery manufacturer
Reifenhäuser Reicofil
(Troisdorf / Germany;
www.reicofil.com
), part of the
Reifenhäuser
group (Troisdorf;
www.reifenhauser.com
), had already converted two of its pilot plants in mid-March and has been producing nonwovens for respirators in continuous operation ever since (see Plasteurope.com of
27.03.2020
). Demand for the material was initially lower, but now it exceeds the production volume many times over, says
Bernd Kunze
, CEO of Reifenhäuser Reicofil.
The machinery maker has also signed a contract with
Berry Global
(Evansville, Indiana / USA;
www.berryglobal.com
) to supply the US packaging group with a meltblown line for the production of filter material for FFP2 and "FFP3" ("N99") respirator masks. The line will be installed in France and bring an additional capacity of 550 t/y of N95 material and 365 t/y of N99 material to the EMEIA market. "This is virtually a 'NATO project', jointly supported by Americans, French and Germans. That makes me proud as a European," said Kunze.
"14 million protective masks are needed in Germany every day"
Wrapping Solutions
(Gaildorf / Germany;
www.wrapping-solutions.com
) has shown that the seamless transition from the automotive crisis to the coronavirus crisis can also be an opportunity for some. While the company specialises in the production of interior fittings such as leather upholstery for cars, up to 24,000 masks made of nonwoven PP have been sewn there at 20 workplaces per day since 23 March, with plans to expand to 40 sewing workstations. According to estimates, around 14m protective masks are needed in Germany every day," says managing director
Wolfgang Schaller
.
For the folding of the face masks, which was previously done manually,
Optima packaging group
(Schwäbisch Hall / Germany;
www.optima-packaging.com
) has built a device that folds the machine-made fabric and fuses it on both sides using ultrasound. In a final step, the loops are then sewn to the masks.
Virologists say eye protection also necessary
In order to sufficiently protect not only the mouth and nose but also the eye area of every person from a coronavirus infection, virologists recommend shielding the eyes as well. At its headquarters, injection moulding machinery producer
Arburg
(Lossburg / Germany;
www.arburg.com
) will therefore be working together with eyewear manufacturer
Uvex
(Fürth / Germany;
www.uvex.de
) and
Ems
(Domat / Switzerland;
www.ems-group.com
) to produce 20,000 pairs of protective spectacles by early May (see Plasteurope.com of
14.04.2020
).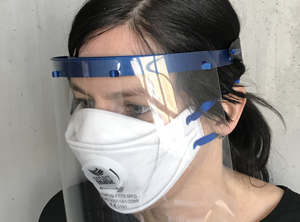 Schütz PR manager Melanie Ievolo testing the protective gear (Photo: Schütz)
In order to primarily supply the surrounding hospitals and nursing homes with urgently needed facial visors, industrial packaging manufacturer
Schütz
(Selters / Germany;
www.schuetz.net
) has begun to produce the visors at its headquarters. For the protective shields – which consist of a plastic frame, a rubber band and the face shield – a corresponding injection mould for the visor frame was produced within two days in the in-house toolmaking department. The packaging specialist sources the rigid film for the visor from its partner
Klöckner Pentaplast
(Montabaur / Germany;
www.kpfilms.com
).
In a first initiative, Schütz provided local hospitals, clinics, nursing homes and midwives with thousands of facial visors free of charge. Klöckner Pentaplast also donated visors as part of the campaign.
3D printing yields more masks and face shields
As an alternative to injection moulding, however, more and more companies are turning to additive manufacturing. At the EU level, there has been coordinated action to help get the needed medical equipment produced by 3D printing during the Covid-19 outbreak (see Plasteurope.com of
30.03.2020
). In the US, 3D printer manufacturer
Stratasys
(Eden Prairie, Minnesota / USA;
www.stratasys.com
) has also built up a coalition of more than 150 organisations to produce face shields (see Plasteurope.com of
07.04.2020
).
In order to be able to supply its 39 affiliated hospitals with sufficient protective equipment at short notice, the Parisian hospital association
Assistance publique – Hôpitaux de Paris
has set up its own 3D printing farm with the support of the
Université de Paris
and French fashion group
Kering
(see Plasteurope.com of
16.04.2020
).
In the meantime, Czech 3D printer manufacturer
Prusa
(Prague;
www.prusa3d.de
) has developed a face shield and made the design freely available online. The project is already considered a success: All over the world, individuals, networks and companies are getting involved and working at high speed to produce the urgently needed face shields.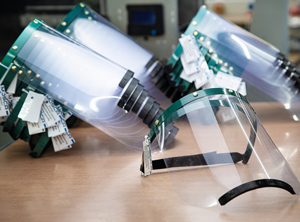 3D-printed visors (Photo: Mosca)
With the help of in-house 3D printers and its own strapping tape production, strapping machine manufacturer
Mosca
(Waldbrunn / Germany;
www.mosca.com
) is also producing masks. Mosca has three 3D printers manufacturing the PLA visor frames with an output of about 35 face masks per day. Now that its in-house needs have been met, local doctors' offices, pharmacies, nursing homes and retail outlets are also being supplied free of charge.
However, quantities remain a challenge in 3D printing, says
Tom Krause
, head of additive manufacturing at
Igus
(Cologne / Germany;
www.igus.de
). "The production of the headband as a central component is comparatively expensive and takes more than two hours. This means that only a few parts per day can be produced per unit." For this reason, the manufacturer of bearings and energy chains relies on injection moulding for this component, using recycled material from "iglidur A200". With the appropriate tool, over 10,000 headbands per week can be produced at its Cologne factory. "This enables us to mass produce the headbands quickly and at a significantly reduced cost," says
Thilo Schultes
, head of toolmaking.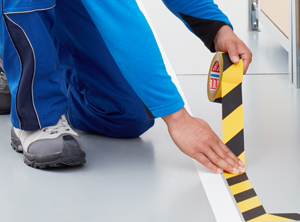 Tesa is donating tape for marking the required distancing (Photo: Tesa)
Without a vaccination, the one thing that is useful more than anything is social distancing. In many stores, floor markings serve as an aid to this. "Since we know that in particularly sensitive areas such as hospitals, so-called "social distancing tape" that can be stuck to the floor quickly and easily is urgently needed, we will donate these to all major clinics in Germany," says
Norman Goldberg
, chairman of the executive board of tape manufacturer
Tesa
(Hamburg / Germany;
www.tesa.com
).
Using tape for floor markings is linked to a large aid programme recently started by personal care and consumer products group
Beiersdorf
(Hamburg / Germany;
www.beiersdorf.com
), the parent company of Tesa. At the end of March, Beiersdorf announced an international emergency programme of EUR 50m to support the fight against Covid-19.
Covestro
(Leverkusen / Germany;
www.covestro.com
) and
Playmobil
(Zirndorf / Germany;
www.playmobil.de
) are among the many companies in the plastics industry responding to the crisis. Covestro is increasing its involvement with donations in cash and kind, including raw materials for the production of medical devices, protective eyewear and hospital mattresses. And Playmobil is doing what it does best: plastic injection moulding. For every "nose-mouth mask" sold, one euro will be donated to the
German Red Cross
' coronavirus emergency relief fund.
Lego
(Billund / Denmark;
www.lego.com
) too has started producing face shields in Denmark, with plans to expand to its other plants in Europe and beyond (see Plasteurope.com of
21.04.2020
).
Aircraft manufacturer
Boeing
, which has started up its 3D printers at 12 US sites to produce "thousands" of face shields per week, has delivered a first batch to the Kay Bailey Hutchison Convention Center in Dallas, Texas, which has been set up as an alternative site for treating patients with Covid-19.
Solvay
(Brussels / Belgium;
www.solvay.com
), a long-standing Boeing supplier, is providing the film (see Plasteurope.com of
15.04.2020
), while another supplier,
Trelleborg Sealing Solutions
(Trelleborg / Sweden;
www.trelleborg.com
), has donated rubber straps for the adjustable headband.
Digital platforms in demand
Meanwhile, digital platforms help bundle supply and demand, especially in times of social distancing. So far, requirements for over 1m surgical masks, 1.3m protective gowns, 4.3m nitrile gloves and 900,000 FFP2 masks have been registered on
www.corona.kex.net
, a platform for the German market operated by
KEX
(Aachen;
www.kex-ag.com
) and the
INC Invention Center
(Aachen;
www.invention-center.de
).
The German chemical/pharmaceutical industry, which is organised in the German chemical industry association
VCI
(Frankfurt;
www.vci.de
), is arranging the emergency supply of disinfectants in Germany with an online marketplace for disinfectants. Industry association
Spectaris
(Berlin;
www.spectaris.de
) is also coordinating offers from the medical and laboratory technology sector on a new online platform.
24.04.2020 Plasteurope.com [244943-0]
Published on 24.04.2020
German version of this article...