LOGISTICS
Hapag-Lloyd reports dream earnings / Farewell, 2M: world's largest shipping companies end alliance / Freight rates little changed or lower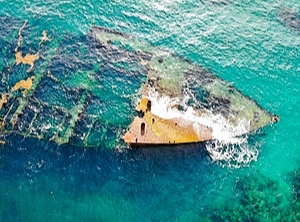 The shipping business is still a long way from running aground (Photo: Pexels, Marc Coenen)
Generations of business students have learned that competition is good. In the logistics industry, however, this iron law of market economics was suspended for a number of years – with the full intention and approval of regulators.

A look back reveals why. At the beginning of the 2010s, shipping companies had arrived at their limits. Far too many logistics providers were competing for far too few orders, which resulted in a ruinous price war that drove the smaller shipping companies and freight forwarders to the brink of bankruptcy (and beyond). Cooperation seemed to offer a way out of the misery, so in 2015, shipping giants such as Maersk, MSC, Hapag-Lloyd, or Cosco and CMA CGM formed alliances.

Cryptically named partnerships such as 2M, The Alliance, or Ocean Alliance emerged, with competitors becoming colleagues. Such groups bundled orders and concentrated capacity: one ship was on route with a partner's containers, while another vessel chugged along another route.

For customers and the port operators, these "cartels" offered both joy and suffering: on the one hand, clients and harbour masters were happy that their goods were being transported and that the transfer infrastructure in ports was being used to capacity. On the other, agreements between the shipping companies naturally also meant that their market power grew – and freight rates rose steadily.

And what of the competition authorities? At the behest of individual states and transnational organisations, they were largely passive in their oversight of activities. It was a credo with the main point being that commerce is underway and our companies can trade with each other.
Let the good times roll
No later than the beginning of the pandemic did the situation begin to pervert. Suddenly, there was a shortage of freight space and containers everywhere, shipping rates soared to astronomical heights, and logistics companies were unable to hike prices as quickly as transport orders arrived. Within five years, a buyer's market was completely transformed into one for sellers.

Since then, shipping companies have been swimming in money. Hapag-Lloyd, a leading player along with MSC and Maersk, recently reported a net profit of EUR 5.11 bn – that's the result of a single quarter, mind you. In relation to sales, it represents a return of 51%. If plastics processors were to achieve a tenth of that ratio in their current times of crisis, they would be more than satisfied.

Last week, MSC and Maersk announced that they want to end their 10-year alliance called 2M in January 2025. Have the shipping companies become modest, or have competition authorities finally blown their top? The answer is probably neither/nor. Under your own steam and on your own account is likely the simple economic calculation behind the decision as one can now earn at least as much money as in the network. The petrochemical and plastics industry, which is dependent on exports and imports, will therefore continue to face difficult times in terms of logistics costs.
Freight rates from 30 Jan. – 5 Feb. 2023
(with change from prior week, price for 40-foot container (FEU))

China – US West Coast: unchanged at USD 1,700 (EUR 1,574)

China – US East Coast: unchanged at USD 3,400

China – Northern Europe: -7.1% to USD 2,800

Northern Europe – China: -6.7% to USD 750

China – Southern Europe: unchanged at USD 3,500

Southern Europe – China: unchanged at USD 900

US East Coast – Northern Europe: unchanged at USD 1,000

Northern Europe – US East Coast: -3.2 percent to USD 6,300
02.02.2023 Plasteurope.com [252093-0]
Published on 02.02.2023
German version of this article...