KI GROUP SUMMIT K 2022
Disruptive markets and transformation: Experts discuss solutions for key issues in the plastics sector / Waste collection and sorting need improvement / Calls for better infrastructure in Europe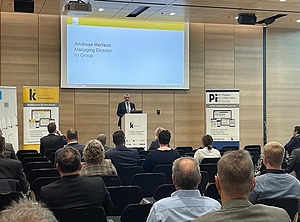 Seventh KI Group Summit at the K trade fair in Düsseldorf (Photo: PIE)
This year's K trade fair in Düsseldorf, Germany, is focused on climate protection, circular economy and the economic crisis. At the 7th KI Group Summit, "Plastics 2022 and Beyond: From Disruption to Transformation", the main issue apart from whether and how plastics can be made greener, was the current upheavals on the global markets and the challenges for plastics converters in managing their supply chains.
The audience of around 120, plus members of the public who followed the event online via LinkedIn or YouTube, witnessed a number of high-ranking speakers from companies along the plastics value chain presenting a status quo of the often-tricky situation and looking at possible solutions.
You can watch the video of the event
here
.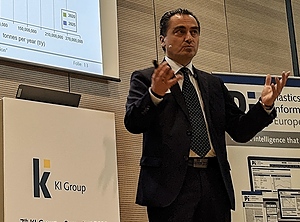 Dimitrios Koranis (Photo: PIE)
Dimitrios Koranis from Koranis Purchasing Solutions explained in his paper, entitled "When prices fly and supply is tight: trends and perspectives in the global plastics markets", why Europe's market share in global plastics production is constantly declining. All major expansion projects for both standard and engineering plastics have, for some time now, been executed predominantly in Asia, and especially in China. In the opinion of Koranis, nothing much is likely to change in that respect in the coming years.

In his view, the supply situation has become far more critical and, as a result of this, the volatility of polymer prices in the European markets has worsened as a consequence of the EU sanctions on plastics imports from Russia. Especially with polyolefins, said Koranis, there had been large volumes supplied from there to Europe. When securing raw material sources, he said, people need to change their way of thinking: in line with the motto "Trash is cash and cash is king", as in the future it will be a matter of understanding waste as a raw material, and making use of recyclate from waste flows economically worthwhile.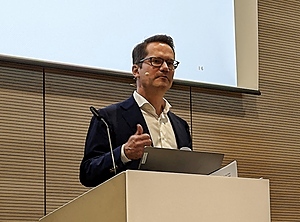 Christian Lührmann (Photo: PIE)
Reports of forces majeures are never ending: Christian Lührmann of Kapellmann Rechtsanwälte, clarified in his paper, titled "Endless threat: How to legally defeat the phenomenon force majeure", the clearly defined cases in which an FM could be used as a legal reason for a failure to deliver.

Lührmann said there were three possibilities for a legitimate and legal declaration of FM: firstly, unforeseeable, secondly, outside one's area of influence and control, or thirdly, unavoidable. "Possible, but simply more difficult to handle", on the other hand, is not regarded as a compelling argument for failing to deliver without the risk of the supplier being made liable. All in all, it was all down to the individual content of the contract and the time the contract was signed, he said, adding that the declaration of an FM in general terms was not legal per se.


Carsten Schneider (Photo: PIE)
Logistics, freight rates, and the effects on the complete supply chain was the subject of the paper given by Carsten Schneider from Kühne + Nagel. Entitled "Will the European logistics sector ever return to normality? – challenges and solutions for medium-sized companies across Europe", it also included many examples from practical experience.

During the pandemic and the strict lockdown in China, freight containers to Europe became ever scarcer, resulting in sky-high freight rates. After the cargo emergency calmed down a little, there were drastic congestions at the major ports of Hamburg and Rotterdam and, to a lesser extent, also at Antwerp. The problem has not yet been solved, said Schneider, adding that major investment is needed over the long term for port expansion, and also – an aspect that is at least just as important – equally efficient connections of rail and truck facilities to the ports.

One bright spot at least for the logistics and container freight sector is that, as a result of the weakening consumer demand and recession, there are also signs of an easing of the situation with international goods traffic. According to Schneider, the market is currently calming down and waiting times at ports are reducing.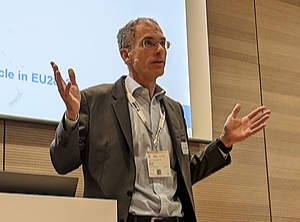 Jens Hamprecht (Photo: PIE)
How do plastics become more sustainable? The question was tackled by Jens Hamprecht, BASF, in his paper entitled "Plastics go green? Opportunities and limits of circularity". His approaches to finding a solution are as varied as plastics themselves, ranging from waste prevention through CO2 reduction, electrical heating pumps, mechanical and chemical recycling to compostable polymers.

He is absolutely clear about one thing, namely that only through widespread cooperation will it be possible to reach the target. He said that BASF cooperates strategically not only with the large established partners within the industry but also with small, dynamic start-ups. He warned that if the plastics industry is not fast enough to find green solutions, it will open the door to substitutes made of other materials. "But that acts as a growth driver for us until the environmental targets have been reached," he added.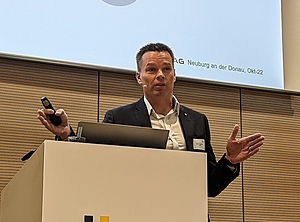 Jens Kaatze (Photo: PIE)
The paper by Jens Kaatze from Wipag tackled the question, "Terra incognita: What are the impacts of a circular economy for the compounding and recycling of polymers?". For him, four elements are decisive for closing the plastics cycle: creating demand for recyclate, smart sorting techniques, recycling, and the design of recyclable products.

Recycling is still extremely inadequate, especially when it comes to reusing technical parts from E&E and automotive applications, said Kaatze – the quota in each case in Europe is just about 3%. It is also often difficult to return the scrap material to recyclers. Old cars, for example, often found a second life in countries outside Europe, and recirculating the plastics components as end-of-life material was virtually impossible. He said it was therefore all the more important to specifically remove large plastics parts and process them separately into high-grade recyclate instead of immediately shredding all scrap car parts. In addition, he called on politics and industry to impose firm regulations for product design and certifications so that recyclate could be used on a wide scale by the OEMs.

For Kaatze, there are three essential requirements for the successful – or more successful – recycling of engineering plastics: setting-up a collection system for larger scrap car parts, the ability to track and identify the materials used in the final products (digital product passport), and, with electrical appliances, for example, introducing more sharing and hiring models instead of always purchasing.
24.10.2022 Plasteurope.com [251416-0]
Published on 24.10.2022
German version of this article...