PLASTICS AND ENVIRONMENT
Alliance to End Plastic Waste accused of greenwashing by UK thinktank / More resources, greater transparency planned / Update on project Stop
Financial thinktank
Planet Tracker
(London;
www.planet-tracker.org
) has accused the
Alliance to End Plastic Waste
(AEPW;
www.endplasticwaste.org
) of "sophisticated greenwashing" in a report that questioned its commitment to tackle plastic pollution and called progress to date "paltry".
Released on 31 August 2022, the report, entitled "
Alliance to End Plastic Waste: Barely Credible
", notes that the majority of AEPW members are also members of the
American Chemistry Council
(ACC, Washington D.C.;
www.americanchemistry.com
), which lobbied against establishing a negotiating framework for the Global Plastic Pollution Treaty.
It also highlights that 92% of AEPW members failed to publicly support the Business Statement for a Legally Binding UN Treaty on Plastic Pollution (see Plasteurope.com of
01.02.2022
).
Related
:
UN to develop global rules for plastics pollution
"Our findings lay out a clear picture of a coalition that is greencrowding – a sophisticated form of greenwashing that sees global corporates hide behind an appealing group title in order to justify moving at the pace of the lowest common denominator," said
Thalia Bofiliou
, senior investment analyst (plastics) at Planet Tracker. "Our particular concern is the overwhelming focus across both the AEPW and ACC on solutions that target plastic waste as opposed to upstream production, which really puts the onus for pollution reduction back on the end-consumer. This is explained by the strong presence of globally dominant suppliers across the two collectives."
One of Planet Tracker's accusations is that in the first three years of its five-year aim to divert and recycle 9 mn t of plastic waste, according to its
Progress Report 2021
, AEPW has only managed 4,000 t, via a portfolio of 35 projects, just 0.04% of its goal. "Even allowing for the pandemic, this raises serious questions about the credibility of AEPW's target. A dramatic ramp-up in recycling and recovery is needed in 2022 and 2023 to achieve the overall five-year target of 15 mn t," the thinktank said.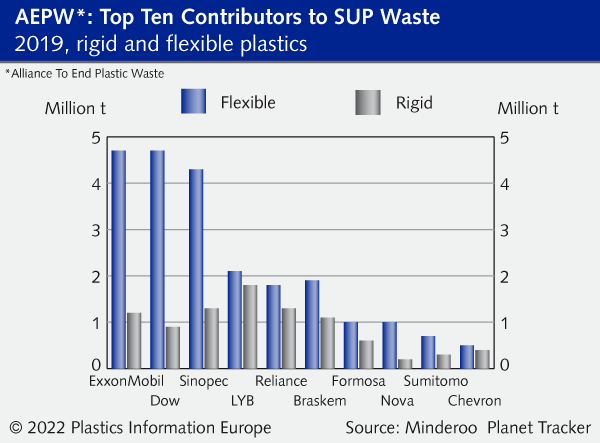 Another criticism is that the alliance's recycling target has remained unchanged since its creation, despite the increase in membership. In effect, this means that the plastic waste removal contribution per member has fallen by 56%, from 107,000 t to 47,000 t, according to the UK-based thinktank, which added that the USD 1.5 bn (EUR 1.5 bn) pledged by AEPW members over five years is trivial in comparison to the USD 400 bn that is planned to be spent on new polymer capacity in the years ahead.
Alliance to End Plastic Waste defense
In response, AEPW said the report contains "a number of factual inaccuracies, especially the unsubstantiated third-party data at its heart", which has caused Planet Tracker to "reach a variety of incorrect conclusions".
The alliance told
Plasteurope.com
that it has developed some 50 projects across 30 countries that are in different stages of implementation, adding that it has made "notable progress" this year – despite initial delays caused by the coronavirus pandemic – and is on track to divert and recycle more than five times more plastic waste compared to previous years' volumes of 4,000 t.
Related
:
AEPW Project Renew Oceans collapses
Backing AEPW, founding member
Dow
(Midland, Michigan, USA;
www.dow.com
) said the alliance is "growing in expertise and delivery" and is applying the learnings in each project it takes forward. "As acknowledged by the Planet Tracker report, we too accept that in a large portfolio of projects such as AEPW's, there will be some that don't achieve their intended outcomes," said a Dow spokesperson. "We remain committed to AEPW because we need the collective intelligence of this value chain group to solve the pollution challenge, including the adoption of solutions that are designed with circularity and recyclability in mind. The pooled resources of AEPW members are exactly what allows the industry and value chain to share the risks of investing in unproven ideas and creating room for finding innovative and different solutions to the global plastic waste challenge."
AEPW members
BASF
(Ludwigshafen, Germany;
www.basf.com
),
ExxonMobil
(Houston, Texas, USA;
www.exxonmobilchemical.com
),
Henkel
(Düsseldorf, Germany;
www.henkel.com
), and
Shell
(London;
www.shell.com
) were also contacted by PIE, but the companies declined to comment.
Recommendations for AEPW
Based on its analysis, Planet Tracker has made five recommendations for AEPW to "warrant credibility". These include setting "meaningful" targets for removing and recovering plastic waste that take into account the magnitude of the global problem, establishing "bold" investment targets, and recognising that virgin plastic production is a major part of the issue.

In addition, AEPW should provide "transparent, measurable, and audited progress reports" so that the alliance's executives can be held to account, especially when missing key targets.

Finally, members, strategic partners, and supporters of AEPW should question their exposure to the reputational risk caused by their affiliation. "Some prompt due diligence looks in order," Planet Tracker said.

Noting the recommendations, AEPW said it recognises that much more financial resources are needed to address the plastic waste challenge, adding that its ambition is to catalyse larger capital investment working with financial institutions. "To help us deliver better, the alliance is also working to integrate greater transparency into our reporting framework. We are developing a set of certifiable impact metrics to better track and measure the outcomes of our portfolio."
Project Stop Ocean Plastics
In an update on the Stop Ocean Plastics (Stop) project (see Plasteurope.com of
13.04.2021
),
Borealis
(Vienna;
www.borealisgroup.com
), which is not a member of the AEPW, told Plasteurope.com that the programme in Muncar, Indonesia has been completed and was handed over to the Indonesian authorities in February 2022.
The other two projects in Pasuruan, Java, and Jembrana, Bali, are in their final stages. AEPW entered into a three-year collaboration with the project in September 2019, focusing on the programme in Jembrana (see Plasteurope.com of
21.10.2019
).
"Stop's holistic concept and impact created has generated credibility among local and national authorities in Indonesia. Consequently, we have been asked by the local government to expand our activities over the wider region of Banyuwangi Regency, East Java, which we began earlier this year," a Borealis spokesperson said.
By the end of 2021, Stop had provided sustainable waste collection services to more than 200,000 people, collected about 2,350 t of plastics, and created 226 jobs. By July 2022, these numbers had risen to 272,000 people, 4,000 t of plastic, and 310 jobs created, according to the Austrian chemicals and plastics company.
21.09.2022 Plasteurope.com [251087-0]
Published on 21.09.2022