RECYCLING USA
California law requires all packaging to be recyclable or compostable in 10 years / Plastics packaging to be cut 25% / Industry to pay USD 5 bn to fight pollution, support communities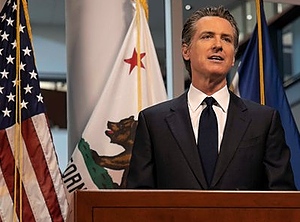 California Governor Gavin Newsom (Photo: Wikipedia)
The US state of California has passed a sweeping waste reform law that it says requires the following by 2032: all packaging to be suitable for reclaim or composting, a 25% reduction in plastics packaging, and 65% of single use plastics (SUP) packaging to be recycled.

Additionally, the law passed in late June compels the plastics industry to pay USD 5 bn (EUR 4.9 bn) over 10 years "to assist efforts to cut plastic pollution and support disadvantaged communities hurt most by the damaging effects of plastic waste," the state said.

The law is likely to affect processors inside the state and any company that sells goods or plastics there; California is America's most-populous state and the world's fifth-largest economy. Its regulations – especially for environmental topics – have had wide-ranging impacts on business.

"California won't tolerate plastic waste that's filling our waterways and making it harder to breathe," California Governor Gavin Newsom said. "We're holding polluters responsible and cutting plastics at the source."

The state said the requirement for at least 65% recycling of plastics packaging after 1 January 2032 is to follows steps of at least 30% after 1 January 2028 and at least 40% after 1 January 2030.
Deal eliminates voters from the equation
The legislation was the result of negotiations between lawmakers and stakeholders in response to a November ballot initiative on the topic, which has since been removed, the state said.
Joshua Baca
, vice-president of plastics at the
American Chemistry Council
(ACC, Washington, D.C.;
www.americanchemistry.com
), said the talks with policymakers were "not an easy process", noting that "the law is a better outcome than the withdrawn anti-plastics ballot initiative. Had that initiative passed it would have cost Californians an estimated USD 9 bn annually but only invest approximately 30% of that to improve recycling in the state."
He pushed back on what he called those who were "inaccurately questioning our intent to work collaboratively on the implementation" of the law. "Nobody got everything they wanted […], but we remain steadfast in our belief that all stakeholders can do more to benefit California by working on constructive solutions rather than attacking each other."
The US
Plastics Industry Association
(Plastics, Washington, D.C.;
www.plasticsindustry.org
) has yet to respond to a
Plasteurope.com
query about the California law and had not posted anything about the announcement on its website by press time. The industry group has been through a major management shake-up this year (see Plasteurope.com of
19.07.2022
).
Maine and Oregon have passed laws requiring consumer packaging manufacturers to recycle and dispose of such products in systems that are to be up and running by as early as mid-2023.
The US government said in June that SUPs are to be phased out in the country's national parks by 2032 (see Plasteurope.com of
24.06.2022
).
19.07.2022 Plasteurope.com [250768-0]
Published on 19.07.2022