PLASTICS RECYCLING GERMANY
Considerable profit-margin problems / Reduction of bureaucracy and lower recyclate quotas called for / International recycling conference by bvse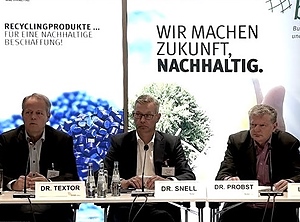 The three bvse experts, Textor, Snell, and Probst, at the press conference (Screenshot: PIE)
"There is much to suggest that we are heading into a recession in Germany in light of the skyrocketing energy prices," said
Dirk Textor
, speaking plainly at the opening press conference of the 24th International Used Plastics Day, which the German association for secondary raw materials and waste disposal
bvse
(Bonn;
www.bvse.de
) held in Neuss with more than 300 participants this year.
The chairman of the bvse plastics recycling association complained that recycling companies are already struggling with considerable profit margin problems due to the omnipresent effects of the crisis. He added that the situation will continue to worsen. Textor therefore called on the industry to "fundamentally change the way we operate". All efforts must be directed towards a sustainable circular economy.
Thomas Probst
, spokesperson of the bvse trade association, was no less clear. He called on politicians to provide targeted government support for plastics recycling, stating that there is no other way to maintain or improve Germany's position as an eco-friendly location. Probst also criticised the fact that investment projects in the recycling sector were repeatedly delayed, made more expensive and ultimately prevented by bureaucracy: "The constant demand for additional plans, requirements and expert opinions is detrimental to the preservation and expansion of the existing sites," the plastics expert complained. Instead of more and more regulations, the industry urgently needs an acceleration of government planning and approval processes. "Germany can no longer afford the dawdling, hesitating and dithering of the past," Probst stressed.
Herbert Snell
, the vice president of bvse, spoke out against high product-related recycling input rates. He stated that it is very difficult to implement these quotas with the mechanical recycling that is offered by the member companies of the association, adding that this raises the suspicion that high recycling input rates are "intended by interested parties" solely to promote chemical recycling. Instead, Snell pleaded for a "model of polymer-specific input quotas" that would not only encompass the packaging sector, but all plastic products. Additionally, Snell believes that plastic producers should also be integrated into the recycling system through certificate trading.
06.07.2022 Plasteurope.com [250665-0]
Published on 06.07.2022
German version of this article...