LOGISTICS
Congestion mounts at China's ports / Container shortage in Russia / Freight prices adrift in Easter lull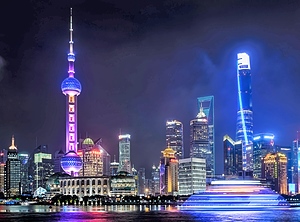 Bright lights, big ghost town as Shanghai remains in lockdown (Photo: Pexels/Wolfram K.)
For over three weeks, the Chinese metropolis of Shanghai and its 26 mn inhabitants have been under a relentless Covid-19 lockdown, with public life coming to a standstill. Residents are no longer allowed to leave their living areas and the streets are deserted. Police and recruited enforcers are on patrol, rigorously watching over the public's adherence to the lockdown imposed by the central government in Beijing. Food is becoming scarce, and several sick and old people have reportedly died in their homes for lack of medical care.

The situation on the sea off Shanghai is disastrous: according to media reports, a new monster traffic jam has now formed off the world's largest container port. More than 300 ships need to tie up and unload their cargo. Depending on the terminal and the cargo, the wait time is more than a week. The ships' crews are under enormous mental pressure as they are forced to linger at sea.

And for global supply chains, which depend on the reliable timing of the flow of goods, every day of delay means further trouble. Some shipping companies have therefore decided to withdraw their vessels and let them sail on with unfinished business. This is a disaster for cargo that was supposed to be landed or loaded in Shanghai. At other major Chinese ports such as Guangzhou or Ningbo, the situation is equally dramatic. Around 500 ships are said to be anchored off China's ports, where they are condemned to inactivity.

A few thousand kilometres to the west, the logistics sector is on the verge of collapse as well: in Russia, containers are becoming scarce. More and more Western transport companies are stopping their business as a result of the sanctions against Putin's regime, and withdrawing their containers from the Russian market. As a result, there is a countrywide lack of steel boxes. Domestic logistics in Russia was already suffering massively because of a large-scale shortage of transport capacity for goods.

Experts expect the situation to reach a critical peak in autumn. What effects the container shortage will have on the supply of vital goods to the population is hard to predict. The Russian government is trying to counteract the catastrophe by welding together more containers. Whether this will be enough to compensate for the outflow remains uncertain.
Few changes to shipping costs; higher prices expected
Meanwhile, container freight rates are still bobbing along in Easter mode. In the week from 18-24 April, a 40-foot container (FEU) from China to the US West Coast held at USD 15,750 (EUR 14,450). As in the previous week, the transport to the US East Coast was available for USD 17,200. The route from China to Northern Europe was again slightly cheaper, by 1%, and ended up at USD 11,900. The FEU was even shipped back for "only" USD 777. This meant a further decline of 5% after the previous week's hefty reduction of 10.5%. From China to a port in the Mediterranean, it went for just under USD 12,600, which is 1% less than in the previous week. The return route, on the other hand, was 2% more expensive at USD 1,370.

In the traffic from Northern Europe to the North American East Coast, shipping companies continued to charge USD 7,700 for the outward journey, and the opposite route was unchanged at USD 650. However, the Easter siesta for freight markets is likely to end soon: market observers are already forecasting significantly higher prices, especially if the chaos off China's ports and Russia's war continue.
21.04.2022 Plasteurope.com [250112-0]
Published on 21.04.2022
German version of this article...