PLASTICS WASTE
UN to develop global rules for plastics pollution / First draft expected in 2024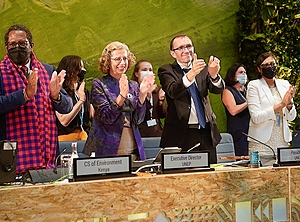 Officials cheer the approval of plans to create global regulations to reduce plastics waste (Photo: UNEP)
The
UN Environment Assembly
(UNEA) has approved a plan to create a binding international treaty for reducing plastics pollution, with the first draft of the legally binding agreement expected to be completed by the end of 2024.
"The landmark resolution addresses the full lifecycle of plastic, including its production, design and disposal, according to the
UN Environment Programme
(UNEP, Nairobi;
www.unep.org
).
The group called the decision to approve work on a treaty "historic" and said representatives from 175 nations voiced their approval for the resolution, which is entitled, "End Plastic Pollution: Towards an internationally legally binding instrument" Voting took place as part of the fifth UNEA session in the Kenyan capital.
Related:
75% of the world wants SUP ban / Nearly 90% ready for global treaty to cut plastics waste
"Today marks a triumph by planet earth over single-use plastics," said UNEP executive director
Inger Andersen
. "This is the most significant environmental multilateral deal since the Paris accord. It is an insurance policy for this generation and future ones, so they may live with plastic and not be doomed by it."
Industry groups voice support for decision
The
International Council of Chemical Associations
(ICCA;
www.icca-chem.org
), which counts the European chemical industry association
Cefic
as a member, said it "is pleased with the outcome and fully supports a legally binding agreement on plastic pollution. As an observer to the negotiations, we commend the governments that spent long days finding common ground to develop a meaningful resolution to address plastic pollution."
Tony Radoszewski
, president and CEO of US plastics interest group,
Plastics Industry Association
(Plastics, Washington, D.C.;
www.plasticsindustry.org
), said, "We welcome the discussion happening at the UN Environmental Assembly that seeks solutions to the issue of plastic pollution. Plastics improve the quality of life. And, when used and disposed of responsibly, play a major role in ensuring a more sustainable world. We are confident that a process in which science and policy work together will recognise the important role of plastics for society and sustainable development."
The
British Plastics Federation
(BPF, London;
www.bpf.co.uk
) said, "The ultimate agreement needs to be evidence led to ensure it is the best choice for the environment. The UK plastics industry takes its environmental obligations very seriously and will continue to invest in material and product innovations, as well as in recycling technology, and views measures to stop waste leaking into the environment, optimizing manufacturing techniques and product design, and keeping material in use for as long as possible as key parts of the puzzle."
The UNEP said that by 2050, greenhouse gas emissions associated with plastic production, use and disposal, would account for 15% of emissions allowed under the goal of limiting global warming to 1.5C in line with the Paris Agreement on climate change.
In the run up to the meeting, a wide range of business leaders, NGOs, and governments had called for broad rules to cut plastics waste for a number of reasons, including mounting pollution in marine environs. Just days before the meeting, the
Organisation for Economic Cooperation and Development
(OECD, Paris;
www.oecd.org
) stressed the need for national and international intervention to curtail plastics waste (see Plasteurope.com of
23.02.2022
). This followed calls from the EU and the
WWF
for global guidelines to reduce plastics pollution (see Plasteurope.com of
10.02.2022
). Previously, nearly 120 companies and institutions, including some of the world's leading retail brands, materials producers, and investment firms, backed a manifesto that called for UN action (see Plasteurope.com of
01.02.2022
).
07.03.2022 Plasteurope.com [249803-0]
Published on 07.03.2022