UKRAINE
Consequences of war: Karpatneftekhim closes plants / Transport affected / Oil, gas, naphtha all up sharply / Polymer prices likely to react / Little local petchem capacity
With polymers and preliminary product capacity of around 1.5 mn t/y, Ukraine is a comparatively small player in Europe. Nevertheless, the global impact of the Russian attack on its neighbour will be enormous, with the war expected to affect prices for polymers and petrochemicals, logistics, energy, and probably the entire global economy. For example, German second division soccer team
Schalke 04
"in view of the events (...) of the past few days" stripped the lettering of its sponsor, Russian state gas company
Gazprom
, from team jerseys.
In fact, according to the
Plasteurope.com
's Polyglobe database (
www.polyglobe.net
), Ukrainian petrochemicals only account for around 1% of available European production. For polymers, capacity is 585,000 t/y of the almost 60 mn t/y in Europe, and in the case of primary and intermediate products, it is a mere 988,000 t/y of the more than 95 mn t/y.
One of the first direct consequences of the large-scale invasion, which was closing in on the Ukrainian capital of Kyiv on 25 February, was a declaration of martial law that shut down all facilities run by local producer
Karpatneftekhim
(Kalush;
www.knh.com.ua
) in western Ukraine. Although the company only operates a small cracker with C2 capacity of 260,000 t/y and 130,000 t/y for C3, it is still the main market player in the country. On the polymer side, it has plants for 300,000 t/y of PVC and slightly more than 100,000 t/y for HDPE. However, exports of materials to Western Europe are minimal.
A second, albeit smaller, petrochemical cluster in the country is the eastern region around Donetsk and Luhansk, where pro-Russian separatists with support from Moscow have been trying to unite with Russia by force since 2014. No news was available from the area at press time.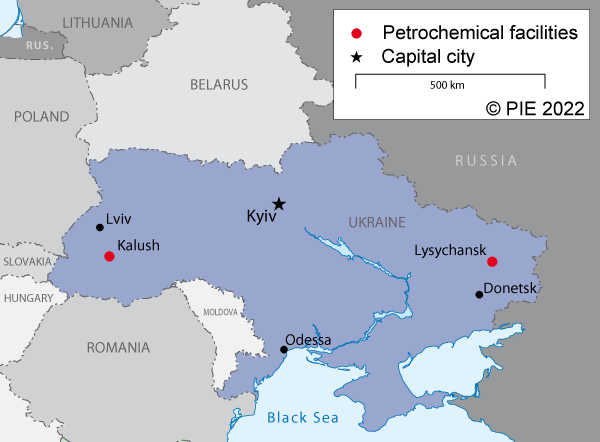 More transport issues
From the point of view of the Western European supply of plastics, Ukraine plays a negligible role. However, the latest news of concern is that operations have reportedly ceased at the most important Black Sea port, Odessa. Danish shipping company Maersk has announced that its vessels will no longer call at Ukrainian ports "for the time being". Many trucking companies also lack drivers because they often come from Ukraine and have been recalled for military service. The logistics sector will therefore come under additional pressure.

In addition, during Plasteurope.com panel discussions major European plastics producers have already declared that the invasion has negated all previous forecasts. Polymer spot markets were still in a state of shock on 25 February midday, but everyone we spoke to unanimously said significant premiums for energy and thus also for polymers are likely on the way.

An initial sign is the price of the Opec oil basket, which rose from USD 96.1 to USD 101.22 from 23 to 24 February, an increase of 5%. At the same time, the European Energy Exchange (EEX) in Leipzig, Germany, said the price of natural gas climbed to EUR 126/MWh from EUR 75 between 22 and 25 February. A preliminary indicator, so-called open-specification naphtha, as has already increased to USD 940/t (EUR 837/t) from USD 872/t, while polymer-grade naphtha, which is more relevant for Europe, has not yet reacted.
Is Europe's oil supply hanging by a thread?
Another important factor will be sanctions imposed by the West, which are in the process of being introduced and have so far included the
Nord Stream 2
pipeline. Any further boycott of purchases from Russia's
Druzhba
(Russian for friendship) 1 and 2 oil pipelines would impact numerous Western European locations.
The pipeline system supplies German sites in Leuna, Schwedt, Burghausen, and Karlsruhe, among others, along with Schwechat in Austria and Plock in Poland. In particular, European naphtha crackers could do even worse in terms of competition compared to their competitors in the US and the Middle East.
In addition, it is unclear how numerous investments by the three main Russian state oil and gas companies
Rosneft
, Gazprom, and
LukOil
will fare. For example, German-based refiner
PCK Raffinerie
(Schwedt;
www.pck.de
) has been 91% owned by Rosneft since the end of 2021 (see Plasteurope.com of
01.12.2021
), and Serbian polyolefin producer
HIP Petrohemija
(Pancevo;
www.hip-petrohemija.com
) is owned by Russia via Gazprom subsidiary
Naftne Industrije Srbije
(see Plasteurope.com of
07.12.2021
). Furthermore, Lukoil is planning to build a polypropylene plant in Bulgaria (see Plasteurope.com of
23.10.2020
).
The huge Baltic Chemical Complex in Ust-Luga, the starting point of the Nord Stream 2 gas pipeline, could be a little less of a pawn because it is on Russian soil, although it may remain in focus. There, Russian petrochemical group
RusGasDobycha
is building two crackers and six polyethylene lines (see Plasteurope.com of
26.07.2021
).
Also, Western companies are making polymers in Russia. An example is the largest local domestic PVC producer
RusVinyl
(Nizhny Novgorod;
www.rusvinyl.ru
), a 50:50 joint venture between
Sibur
(Moscow;
www.sibur.com
) and
Solvay
(Brussels;
www.solvay.com
) with a capacity of 300,000 t/y. The Belgian company failed to respond to a query by press time.
25.02.2022 Plasteurope.com [249771-0]
Published on 25.02.2022
German version of this article...