UPDATE - USA
Plastics Pact calls for end of PS, EPS, and PVC packaging by 2025 / Group wants to eliminate 11 polymer products and materials
Info: Ineos Styrolution has issued a statement on the decision, which has been added to the story.
28.01.2022 15:55:52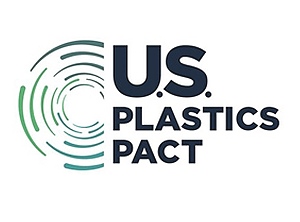 (Logo: The Recycling Partnership)
The North American platform of the global Plastics Pact of
Ellen MacArthur Foundation
(EMF, Cowes, UK;
www.ellenmacarthurfoundation.org
) seeks to halt the use of packaging containing polystyrene, EPS, PVC, and other polymers and stop production of a number of plastic products by the middle of the decade.
The resins and products are outlined in the group's "Problematic and Unnecessary Materials List" announced on 25 January 2022 (see below). It said, "The list identifies 11 items that are not currently reusable, recyclable, or compostable at scale in the US and are not projected to be kept in a closed loop in practice and at scale by 2025."
The group noted that the "list applies exclusively to plastics packaging", but it seems likely that specific items on it are targets for elimination. Members of the group are to "develop guidance on circular alternatives to eliminate the items on the list by 2025".
The US Plastics Pact was set up in 2020 and is led by US-based
Recycling Partnership
(Washington, D.C.;
www.recyclingpartnership.org
) and supported by the
WWF
(see Plasteurope.com of
31.08.2020
). Members include
Coca-Cola USA
,
Mondelez USA
,
Nestlé
,
Aldi
,
Danone
,
L'Oreal
,
Henkel
,
Unilever
, and
Walmart
. Styrenics giant
Ineos Styrolution
(Frankfurt, Germany;
www.ineos-styrolution.com
) announced that it had joined the pact last year, and it told
Plasteurope.com
what it thinks about the inclusion of PS and EPS on the list. "While Ineos Styrolution fully supports collaborative, solution-driven initiatives intended to drive significant system change in the design, use, and reuse of plastics, the company disagrees with the inclusion of polystyrene on the recent list of concerning materials. With new advanced recycling technologies continuing to expand in use and enabling a truly circular life cycle for polystyrene material, polystyrene will remain a crucial part of the creation of a circular economy for plastics."
Chemical trade association questions research, offers help
Joshua Baca
, vice-president of plastics at the
American Chemistry Council
(ACC, Washington, D.C.;
www.americanchemistry.com
), criticised the move: "Unfortunately, the US Plastics Pact lacked a transparent third-party, data-driven and scientific approach, and its process seems to be rooted in ideology and a predetermined, misguided outcome. In fact, the list of plastic materials they suggest be eliminated by 2025 will only hinder the acceleration of a circular economy, slow progress toward a lower carbon future, and reduce our ability to use greater amounts of recycled material in plastic packaging."
Baca said his organisation is willing to work with the same group trying to eliminate the resins and products. "Our hope is that the Pact will partner with us to leverage our industry's expertise and the extensive work we've done to achieve a more circular economy for all materials by scaling the growth of innovative recycling technologies – rather than to promote de facto bans on certain types of plastic packaging."
The US Plastic Pact's "Problematic and Unnecessary Materials List"
Cutlery*
Intentionally added per- and polyfluoroalkyl substances (PFAS)
Non-detectable pigments such as carbon black
Opaque or pigmented PET for bottles (any colour other than transparent blue or green)
Oxo-degradable additives, including oxo-biodegradable additives
PETG in rigid packaging
Problematic label constructions, to include adhesives, inks, materials (e.g., PETG, PVC, PLA, paper)
PS, including EPS
PVC, including PVDC
Stirrers*
Straws*
*When non-reusable, non-recyclable, or non-compostable per US Plastics Pact definitions and provided as an ancillary item to the primary container
28.01.2022 Plasteurope.com 1093 [249531-3]
Published on 28.01.2022