LOGISTICS
Chinese ports of Ningbo and Shanghai shut once again / Main export season heavily curtailed before Chinese New Year / Shipping companies increasingly investing in inland logistics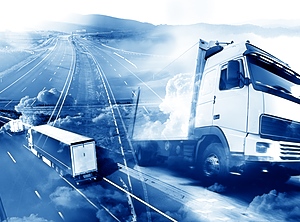 Shipping companies are increasingly focusing on hinterland logistics (Photo: PantherMedia/carloscastilla)
The start of a new year, all clocks set to zero, a fresh start – not a chance! Problems from the world of logistics remain with us in the new year. China's reaction to new coronavirus infections is, as usual, uncompromising. So, it is not surprising that the world's third-largest container port in Ningbo / China is once again barely operational because of restrictive measures. In the meantime, around 120 container ships, with a total of more than 600,000 TEU (20-foot equivalent units) are piling up in front of port entrances at Ningbo and Shanghai, waiting to be cleared. The strict quarantine orders for a good 200 navigators on the Yangtze River also increase the number of ships that appear to be stranded.
An actual time window for possible improvement is not available at present. But that is exactly what is needed right now, as the peak season for Chinese exports is expected to run at full steam. On 1 February, the country sees a celebration of the Chinese New Year and remains on holiday for a week. Chemical companies in particular, however, are more likely to shut down or at least reduce production for three to four weeks. The reasons for this are manifold: from a lack of precursors to transport possibilities to punitive measures on the part of the government because of non-compliance with CO
2
emissions standards.
The traffic jams in front of the US ports – for example Long Beach and Los Angeles – as well as in front of Antwerp and Rotterdam have not yet been worked through either. Not to mention, the innumerable problems of hinterland logistics, intensified on both continents by the virus.
Related:
Strong growth forecast for 2022-23 despite supply-chain disruptions
It is thus astonishing that there is hardly any movement in spot prices for main container routes at present. From China to the west coast of North America, the price for a 40-foot container (FEU) remains at the previous week's level of USD 14,700 (EUR 12,890), according to
Plasteurope.com
research. The average transport premium from China to the east coast of North America also remains unchanged. Here, as in the previous week, customers have to invest USD 17,480 in passage.
Prices from China to Europe also remain unchanged at a high level. From Asia to Northern Europe, container transport costs USD 14,500 at the beginning of the year, and USD 1,450 on average for the return journey. From Northern Europe to the US East Coast, USD 7,250 continues to be demanded and paid. Only the route back to the Old World is becoming more expensive by a whopping 10%, and now costs USD 550.
Shipping companies made a lot of money in 2021, and that seems to be the case so far in 2022 as well. The big players in this business are therefore tackling their future strategies with full coffers.
Hapag-Lloyd
, for example, is investing more in port holdings. The world's largest Danish shipping company,
Maersk
, recently acquired the Hong Kong rail and truck logistics company,
LF Logistics
, for USD 3.6 bn, demonstrating its intention to cover all areas of the supply chain in the future.
06.01.2022 Plasteurope.com [249335-0]
Published on 06.01.2022
German version of this article...