FIBRERIGHT
Recycling facility opened in Wales / Ambitious expansion plans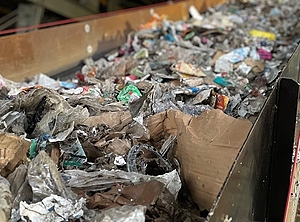 Plastics-rich waste rejected by waste treatment facilities (Photo: Fiberight)
Recycling firm
Fibreright
(Swansea / Wales;
https://fiberight.com
) has opened a new plant in south Wales, which it hopes will process 120,000 t of commercial waste by 2026, and create 40 new jobs.
The plant, located on the Westfield industrial estate in Swansea, will recover and recycle valuable material from household waste procured from waste-sorting facilities across Wales and England, using its water-based Hydracycle process.
It will work with an initial capacity of 12,000 t, mainly for R&D and validation work. In early 2022, the capacity is expected to increase to 40,000 t/y as a pre-commercial facility, before hitting the 120,000-t target in 2026.
Fibreright's process captures and recycles into higher value products more than 70% of recyclable materials in the household waste stream, including packaging such as bottles, bags, wrappers, tubs and trays, food waste, paper/card, metals and aggregates (glass and grit).
09.12.2021 Plasteurope.com [249170-0]
Published on 09.12.2021