PACKAGING AND ENVIRONMENT
WWF study on German circular economy sees "burning questions" / Potential savings of over 20m t virgin plastics by 2040 / Call for focus on waste avoidance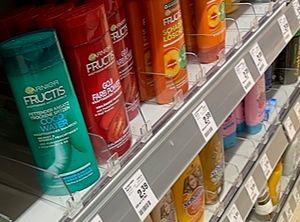 WWF calls for shampoo-bottle-to-shampoo-bottle recycling (Photo: PIE)
Germany is often heralded as a leader in waste management and recycling, but a recent analysis has revealed the country's untapped potential for a truly circular economy for plastics packaging, as the country still seems to be wasting valuable resources. To align the packaging system with the Paris Agreement and European Green Deal​, courageous political will, ambitious action by brands and close collaboration between industry, policy and academia are needed. A study conducted jointly by environmental organisation
World Wildlife Fund
(WWF) and environmental consulting and investment firm
SystemIQ
(London / UK;
www.systemiq.earth
) explains where and how the change must take place. The report, "
Burning Questions – Pathways to a circular plastic packaging system in Germany
" says despite the country's high collection and recycling rates, the German plastics system is a linear one – a one-way street from production to disposal. The study builds on the methodology of "Breaking the Plastic Wave" (see Plasteurope.com of
17.08.2020
).
According to the study, the situation in Germany can be changed most readily through innovative reuse models, the avoidance and minimisation of unnecessary packaging, and recycling-friendly designs. More than 20m t of virgin plastics could be saved by 2040 in this way – equivalent to more than six times Germany's annual consumption of plastics packaging. The analysis shows that by 2040, Germany could reduce its total volume of waste by 40%, consumption of virgin plastics by 64% and waste incineration with energy recovery by 73%. This would be an effective component of climate protection, and 68m t of greenhouse gases could be saved by 2040. If everything continues as earlier, however, the production and disposal of plastics packaging alone will account for some 5% of Germany's greenhouse gas budget as based on the 1.5°C target of the Paris Climate Agreement.
From throw-away society to closed-loop economy
At the moment, packaging and disposable items account for almost 60% of Germany's plastics waste. WWF figures show that, each year, Germany alone generates 39 kg of waste per capita from plastics packaging alone, which is considerably above the European average.

While the study states that the political commitments made to date will boost the recycling rate and reduce the amount of incineration, the waste mountain continues to grow. This will not suffice for a change of course: even if all current commitments were implemented in full, demand for primary material would still increase by 4%, according to the study. The WWF said reorientation requires a rethink, with the focus on waste avoidance rather than just on increasing the quantities of waste recycled, as has been the case to date.

Simply dispensing with unnecessary packaging would already reduce Germany's plastics waste by 8%. Legislation would need to specify clear avoidance and reduction targets to achieve this.

The study identifies reuse models as holding the most effective solutions, saying that nearly a quarter of plastics waste could be eliminated by 2040 through extended or innovative multiple-use systems, including deposit systems for sectors other than the beverage industry, more refilling concepts for supermarkets and reusable transport containers.

There is also need to catch up when it comes to recycling. Germany is actually in a good starting position with high collection rates in its "dual system", but too much material still ends up in incinerators or open recycling loops or is exported and thus lost to the system after a short period of use. "Yoghurt pots and shampoo bottles should be used to make packaging again, not car seats or floor mats," says Laura Griestop, a plastics and packaging expert at WWF Deutschland.

She noted that attention must be paid to the recyclability of packaging at the design stage already. "Monomaterials, a less varied range of materials, uncoloured containers as far as possible and easily removable labels save a great deal of work and are easy to retain in the loop". And packaging manufacturers should also make more frequent use of recycled material. At present, recyclate only accounts for 11% of the material used.

The WWF is thus calling on the incoming German government to put binding "guideposts" in place to reward low-resource packaging, reduce the overall quantity of waste, improve the recyclability of packaging, promote collection and sorting and also create incentives for the use of recyclate in packaging. German federal elections are scheduled for 26 September 2021.
26.08.2021 Plasteurope.com [248377-0]
Published on 26.08.2021
German version of this article...