EVONIK
Construction of PA 12 extension in Marl completed / Start-up expected in Q4 / Bio-based monomers not a major issue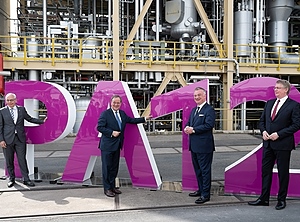 Inauguration of the new plant in Marl: (from left) Michael Vassiliadis (IG BCE), NRW minister president Armin Laschet, Evonik CEO Christian Kullmann and supervisory board chairman Bernd Tönjes (Photo: Evonik)
Despite the restrictions due to the pandemic,
Evonik
(Essen / Germany;
www.evonik.com
) has now largely completed its new PA 12 plant complex in Marl / Germany following a construction time of just under two years (see Plasteurope.com of
16.11.2020
). CEO
Christian Kullmann
explains that the different sections of the plant will now be brought into regular operation on a step-by-step basis. Full commissioning of the EUR 400m investment is planned for the fourth quarter, only slightly behind schedule. Evonik will be creating 210 new jobs at the location.
The new complex will increase Evonik's capacity for "Vestamid" and "Vestosint" PA 12 granules and powder by some 50%.
Plasteurope.com
's Polyglobe database (
www.polyglobe.net
) puts the market leader's current output capacity at around 40,000 t/y. Global capacity is a good 120,000 t/y, which is spread primarily over the
Arkema
,
Ems
, Evonik and
Ube
plants, plus a number of Chinese companies.
In the same way as to date, production at the new plant will be run mainly using butadiene and 1,5,9-cyclododecatriene (CDT) as intermediates for laurolactam. The alternative bio-based feedstock chain that Evonik has pursued for a number of years in Slovakia, with a pilot plant for omega-amino lauric acid (ALS) from palm kernel oil, no longer seems to be playing a role. When contacted by PIE, a spokesperson explained that the ALS project had been completed and had shown that it was possible to produce PA 12 in this way. "The market is asking for bio-based polyamides," the spokesperson reported. But it is questionable whether it is actually ready for these polyamides in the light of what will presumably be higher costs for the end product. At the moment, Evonik is conducting a further research project for bio-based monomers. Lignin, a waste product from cellulose production, is to be used as a raw material for PA 12 monomer building blocks.
Since the production outage for laurolactam feedstock CDT at Evonik in 2012, which resulted in an extreme bottleneck in PA 12 production over a period of several months, not only Evonik but also
Invista
have focused on the development of monomer alternatives. In the meantime, however, the initial momentum here has slowed down considerably.
14.07.2021 Plasteurope.com [248087-0]
Published on 14.07.2021
German version of this article...