LOGISTICS
"Stratospheric level" / New round of container freight rate Monopoly game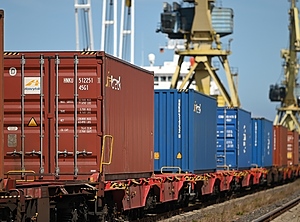 Completely off the rails: prices for container logistics (Photo: Deutsche Bahn/Oliver Lang)
When it comes to costs in container shipping, even the otherwise-restrained information service Lloyd's List is losing its composure: the British news portal recently described short-term spot prices as "completely out of control", and at "stratospheric levels".

In addition to transport of goods by sea, freight rates for transport by rail and truck from China to Europe have also risen sharply within the past seven days. The cost of shipping goods by rail rose by more than 10% to an average of USD 13,550 (EUR 11,120), and the cost of transporting goods by truck increased by a whopping 12% to USD 21,840.

As expected, the average price for a 40-foot container in maritime transport could not escape this upward spiral. According to Plasteurope.com research, transport from China to Northern Europe now costs around 5.7% more than the previous week at USD 11,150. On the other hand, there was a slight sigh of relief on the Mediterranean: the route from China to a southern European port was spared a further price hike. The container, however, still costs USD 10,750.

Carriers are showing less restraint for the passage from northern Europe to the US East Coast. They are charging an average of USD 4,800 for the transport – 6.7% more than the previous week. The price of transit from the US East Coast/Gulf of Mexico to Northern Europe is also worth noting: the cost of a 40-foot container rose from USD 550 to USD 660 within a week – that is a sharp 20% increase.

How did that happen? According to PIE's information, chemical companies in particular have increased their demand for passage slots. After all the fuss over prices though, there could finally be some good news: does the increasing demand mean that the first significant imports from the plastics sector in Europe can now be expected?
09.06.2021 Plasteurope.com [247805-0]
Published on 09.06.2021
German version of this article...