VESTEL
Turkish white goods supplier buys Battenfeld-Cincinnati PS sheet line / Industry sales surge in Q1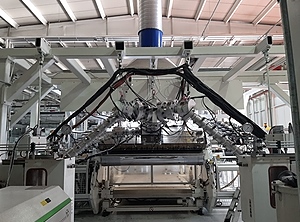 The HIPS line (Photo: Battenfeld Cincinnati)
The home appliances unit of Turkish white goods manufacturer
Vestel Elektronik
(Manisa;
www.vestelinternational.com
) has added a line for the production of high-impact polystyrene panels from German extrusion machine maker
Battenfeld Cincinnati
(Bad Oeynhausen;
www.battenfeld-cincinnati.com
). Door and interior linings for refrigerators are to be produced on the system, which consists of two high-speed extruders and a multi-touch roll stack. The throughput capacity of the plant, which is already in operation, is quoted at 16,000 t/y. No financial details were disclosed.
The panels, which are up to 6 mm thick and up to 1,200 mm wide, offer a high level of flatness and a thickness tolerance reduction of around 50% compared to products from conventional lines, Battenfeld Cincinnati said. In order to achieve this precision, the system has a 2,400 mm-wide two-roller stack for pre-calibration, and several rollers for recalibration. According to the supplier, the reduced thickness tolerance is immediately reflected in lower production costs, with Vestel said to be saving six-figures each year in euros.
The Vestel group, part of the
Zorlu Group
conglomerate since 1994, is one of Turkey's leading exporters of electronics and household appliances. The brand portfolio includes
Telefunken
,
Graetz
,
Finlux
,
Hitachi
and
Toshiba
. Additionally, part of the Zorlu Group is yarn manufacturer
Korteks
, one of the largest producers of polyester yarns in Europe. In February 2021, a plant for recycling PET bottles into flakes went into operation at Korteks headquarters in Bursa / Turkey. According to the company, the production capacity of the new 17,000 m² recycling plant is 7,200 t/y.
Local association reports Q1 sales increase
Vestel is a member of the Turkish white goods manufacturers' association
Turkbesd
(Istanbul;
www.turkbesd.org
), which says the sector had a production capacity of 25m units and exported 22m units in 2020. Exports are some USD 4.5 bn (EUR 3.7 bn), with the foreign trade surplus quoted at approximately USD 4 bn.
The association said white goods sales continued to increase in the first quarter of 2021, with turnover of member companies in the six main product categories up 29% versus the year-earlier period. Turkbesd President
Can Dinçer
said, "We achieved satisfactory results for our industry in the first quarter of the year. There is a very successful acceleration in our sales, especially in Turkey." First-quarter exports rose 26%, he added.
17.06.2021 Plasteurope.com [247804-0]
Published on 17.06.2021
German version of this article...