CHEMICALS AND SUSTAINABILITY
High-Level Roundtable for EU chemicals strategy holds its first meeting / Cefic and industry players make proposals for priorities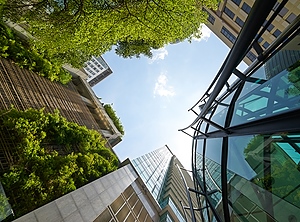 Cefic says it is facing a quadruple challenge: digital and green transition, circularity, and the chemicals strategy (Photo: Cefic)
The EU's chemicals strategy for sustainability drafted last year, a step toward a European "Green Deal", is taking on sharper contours. In early May 2021, the
European Commission
published the long-awaited update of its industrial strategy, and the constitutional session of the High-Level Roundtable, to which the trade association
European Chemical Industry Council
(Cefic, Brussels / Belgium;
www.cefic.org
) and member companies belong, took place. On the EU's roadmap to sustainability, lauded by environmental NGOs as containing some of the world's most ambitious policy recommendations, main talking points for the commission in dialogue with industry will include strengthening the chemicals legislation REACH. The database of the
European Chemicals Agency
(ECHA, Helsinki / Finland;
www.echa.europa.eu
) has records for about 120,000 substances sold on the EU market. However, as only an estimated 22,000 of these have been registered, gaps need to be filled.
Compared to the original legislation, REACH 2.0 will take a more holistic approach, with an overarching emphasis on protecting human health and ecosystems. In line with the objectives of the Green Deal, designing products for sustainability, for example, is to be given priority over enacting restrictions after risks appear. Among the targets will be reducing exposure to endocrine disruptors and examining the effects of long-lasting chemicals or hazardous substances, produced in the EU or imported. ECHA has estimated that chemicals with properties hazardous for human health still represent 74% of European output, so there will be plenty to talk about. Some substances used by the plastics industry for years are still under closer EU scrutiny, including bisphenol A, phthalates, and certain flame retardants. The potential for recycled products to contain so-called chemicals of concern is also a topic.
The European chemical industry, initially sceptical that its voice would be heard, has welcomed the commission's recognition of chemicals as "one of the priority ecosystems that would benefit from a sector-specific pathway for industrial transformation". Commenting that the coronavirus crisis "has highlighted the indispensable role of chemicals in many essential value chains", Cefic said fast-tracking innovative products "designed in Europe and made in Europe" will be instrumental for achieving sustainability goals. For the industry, incentives are important, the association stresses. Unlike some other sectors facing a twin digital and green transition, the chemicals grouping sees its challenge as quadruple, as it must also factor in circularity objectives and implementation of the chemicals strategy all at once.
Which sustainability goals should be prioritised?
In accelerating implementation of the chemicals strategy, what should be prioritised? Ahead of the first roundtable meeting on 5 May 2021, a coalition of members from the industry, including Cefic and plastics producers
Covestro
(Leverkusen / Germany;
www.covestro.com
) and
Solvay
(Brussels;
www.solvay.com
), published a list of proposals. Among other things, these call for creating a toolkit of stronger measures to enforce existing REACH legislation at the EU's borders and developing and defining criteria for safe and sustainable design, one of the pillars of the Green Deal.
As 92% of chemicals non-compliant with REACH in consumer products are seen to come from outside the EU/European Economic Area, the roundtable member companies said that sanctioning these importers would help reassure EU companies investing in sustainable chemistry that their competitiveness remains safeguarded. As another important driver, the players urged defining the criteria for safe and sustainable-by-design innovation in coherence with the climate transition and circularity objectives. Finally, clear market incentives will drive growth of industrial change faster than by introducing wider bans and restrictions, they said.
To encourage participation in shaping the Green Deal, the chemicals strategy for sustainability, the circular economy action plan and climate law, Cefic is establishing what it calls the "Future Chemistry Network". Along with chemicals and plastics industry companies, it has invited policymakers, industry, NGOs, academia, scientists, researchers, thought leaders and other stakeholders to join, share ideas and align with each other on solutions that have the potential to be implemented at European scale.
18.05.2021 Plasteurope.com [247642-0]
Published on 18.05.2021