BASF
German chemicals and plastics giant dons green-coloured glasses / Lower carbon emissions and higher share of renewables are key / Sustainability could also be a business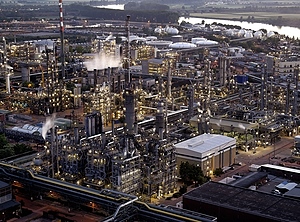 Steam cracker at the Ludwigshafen site (Photo: BASF)
In preparation for EU's Green Deal, the European chemicals and plastics industry is marching at the forefront, mobilising its vast armada of technologies to reduce greenhouse gas emissions and consumption of raw materials, and put both energy sources and production on a more sustainable footing. As could be expected, the industry's biggest company, with senior management well versed not only in science but also in political awareness, is a principal driving force.
As CEO
Martin Brudermüller
illustrated at the virtual Capital Markets Day on 26 March 2021, from power generation to feedstock and downstream products,
BASF
(Ludwigshafen / Germany;
www.basf.com
) has a vision for almost all kinds of sustainable production. It also has a timeline to realise it, given the right financial and political prerequisites. Some projects will be stemmed alone, others with partners. In return for its contributions to sustainability across Europe, BASF intends to draw on public funding, wherever possible, as well as regulatory concessions.
"Net Zero Emissions" targeted by 2050
At the top of its agenda, the Ludwigshafen group's management has placed the motto: "Net Zero Emissions by 2050". The nearest goal is reducing absolute CO2 emissions by 25% compared with 2018. Since 1990, BASF has significantly reduced carbon emissions by optimising energy production and integration, and improving production processes, but "the low-hanging fruit has already been harvested", and much is still to be done toward achieving more ambitious targets, Brudermüller said. While some steps are already technically feasible, the price of achieving them is not yet right. The regulatory environment will also have to become more attractive to companies.

Developing new technologies for carbon management and partially replacing fossil feedstocks with renewables is nothing unusual for a chemicals producer like BASF, but the game-changing part of its envisaged scenario is to eliminate fossil fuels as an energy basis, where possible, and replace them with renewables. In the 1960s, the group imagined a quite different energy future, namely building its own nuclear power plant at Ludwigshafen. Today's concept builds on having its own wind and solar plants, and hydrogen will also play a role. Offshore wind energy is already cost-competitive and will become even more so as technology improves, Brudermüller noted. Next to wind power, BASF is also eyeing solar plants at its own production sites. At its Schwarzheide site in Germany, for example, more than 360 mw of capacity from renewable energy sources has already been installed, with an additional 300 mw planned.

Other visions include replacing steam production at co-generation plants with heat pumps and steam compressors, as well as redeploying waste heat from production plants, using electric heat pumps "on a scale never seen before". The latter will be realised together with Siemens Energy, first at Ludwigshafen, then globally, Brudermüller said. A small step in this direction has already been taken at BASF's Tarragona / Spain site, where a steam turbine in a PDH plant was replaced with an eDrive three years ago.
Electric cracker to be trialled with partners
Led by steam cracking, ten base chemical processes have been determined to create the majority of carbon emissions at BASF's plants and thus represent the prime targets for action. To this end, the group has joined forces with Saudi Arabia's
Sabic
(Riyadh;
www.sabic.com
) and engineering giant
Linde
(Guildford / UK;
www.linde.com
) to evaluate construction of a prototype for an electric cracker at the Ludwigshafen site. Start-up is planned for 2023. BASF and Sabic are contributing their experience in developing chemical processes and operating crackers, while Linde is lending its expertise in cracker furnace technologies. The companies have applied for funding under the EU Innovation Fund and Germany's "Decarbonisation in Industry" programme.
In another step, BASF wants to integrate "green" hydrogen, as an energy driver, into its "Verbund" production in Ludwigshafen by starting up a large water electrolysis plant in 2024. As this is not yet economically viable, it has applied for funding through
IPCEI Hydrogen Technologies and Systems
. The EUR 90m investment, Brudermüller said, will increase the group's green hydrogen capacity by 8,000m t/y. In another stand-alone project, the chemical producer is scaling up its methane pyrolysis process and starting up a pilot reactor. At its Verbund site at Antwerp / Belgium, it is "actively looking" for ways to capture carbon and transport it to an offshore sink. An investment decision is targeted for 2022, based on the results of studies and available public funding.
Bio-based feedstocks are gaining popularity throughout the plastics industry. Brudermüller said these can be used from the point of entry into BASF's production chain, replacing naphtha and natural gas. Process innovations will enable it to phase renewable feedstocks such as sugar and vegetable oils directly into the downstream process. Heating crackers with bio-methane is seen as a fast-track drop-in solution to eliminate "a couple of hundred thousand tonnes of CO
2
", though this is limited by current availability.
Sustainability toolbox for customers
In addition to using more sustainable feedstocks in its own production, BASF is keen to develop a business supplying other companies. Brudermüller said the group wants to give its customers choices to reduce their own CO
2
footprint. It already offers them a toolbox that includes recycled feedstock through its "ChemCycling" technology, renewable feedstock under the biomass balance approach, renewable energy sources and, finally, the necessary transparency on footprints and reduction potentials. Alongside its existing portfolio, the chemical producer has recently begun piloting new offerings with lower carbon emissions or using renewable feedstock through biomass balancing.
In one example, together with plastics and rubber producer
Trinseo
(Berwyn, Pennsylvania / USA;
www.trinseo.com
), BASF plans to expand its output of styrene, based on circular feedstock. The US group has recently begun procuring BASF's renewable styrene for use in its solution-styrene butadiene rubber (S-SBR) and polystyrene products. BASF produces two types of circular styrene with a mass-balance approach, one a renewable feedstock-based styrene and the other styrene based on chemically recycled feedstock. Both replace a certain amount of virgin fossil resources at the beginning of the value chain, thus reducing CO
2
emissions, it says.
"This toolbox enables us to support our customers with sustainable solutions. It allows us to differentiate from competitors. It is clear, however, that incremental, specific CO
2
reductions have their price for customers and consumers," Brudermüller said. While it is too early to comment on the success of this pilot programme, he said the additional value created by lowering carbon emissions should become tangible soon, "as the end-customer demands it". If all develops according to plan, BASF sees opportunities to capture a return on the required investment in CO
2
reductions.
06.04.2021 Plasteurope.com 1072 [247350-0]
Published on 06.04.2021
German version of this article...