RESEARCH
Two Austrian recycling projects seek to improve sorting of plastics waste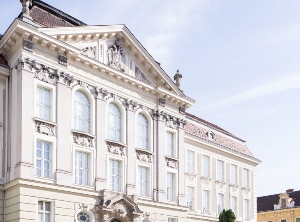 University of Leoben (Photo: MUL)
The Department of Polymer Engineering and Science at Austria's
University of Leoben
(MUL, Leoben;
www.unileoben.ac.at
) and the country's
Polymer Competence Center Leoben
(PCCL, Leoben;
www.pccl.at
) have begun a pair of studies into sorting technologies for plastics waste, both of which are supported by the future fund "Zukunftsfonds Steiermark".
The project "Plastic STRAW" (Smart Technology for Recycling of Assorted Plastic Waste) aims to develop a new process for separating waste that is difficult or currently impossible to sort. An innovative feature of the process divides the materials while they are molten. "In addition to the separation of plastic fractions, contaminants are also removed," said
Michael Feuchter
, chair of material science and testing of polymers.
The mixed plastics are melted and separated in a centrifuge to take advantage of the different densities of the materials. The goal of the two-year project is to develop a prototype that can be connected to any conventional extrusion or compounding line.
Targeted sorting of multi-layer films
The "Multilayer Detection" project seeks to separate small pieces of film from the rest of the waste. Different plastic layers are themselves an impurity that reduces the quality of the material. "The aim of the project is to develop and test sensor technologies that make it possible to identify multilayer films and sort them in a more targeted manner," said Gernot Oreski, division manager of the competence centre Leoben.

The process is expected to focus on near-infrared spectroscopy, or NIRS, a physical analysis technique that uses short-wave infrared light to create molecular vibrations. Different materials generate different movements that can be detected and assigned to various substances. This should allow for a clearer distinction between what can and cannot be recycled and produce higher quality materials.

With around 100 employees, the polymer competence centre Leoben was founded in 2002 and works on R&D projects for plastics solutions in a wide range of applications, including those in the automotive, aerospace, packaging, solar and photovoltaic sectors.
03.12.2020 Plasteurope.com [246431-0]
Published on 03.12.2020
German version of this article...