SRF
Expansion of BOPP capacity in India / Plants for BOPET films in operation in Hungary and Thailand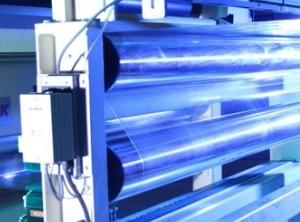 SRF continues to rely on packaging films (Photo: SRF)
The board of the Indian conglomerate
SRF
(Gurugram, Haryana / India;
www.srf.com
) has approved the construction of a second BOPP film plant and metallisation facility in Indore / India. The existing capacity of 45,000 t/y is to be more than doubled with an additional 60,000 t/y.
Construction is scheduled to take 20 months, so the new plant is scheduled to be operational by the end of 2022, at the earliest. The investment is estimated at INR 4.24 bn (EUR 47.4m) and is to be provided from debt and internal accruals. SRF cites growth in the BOPP market both in India and overseas as the motivation for the investment, as well as the goal of being able to serve the entire spectrum of BOPP products. Based on the current product mix, the existing plant in Indore is running at 100% capacity, according to the company.
When the new plant is operational, SRF will have a total BOPP capacity of 130,000 t/y, according to
Plasteurope.com
research. The company had already entered the production of biaxially oriented polypropylene films in 2011 with a 25,000 t/y line from
Brückner
(Siegsdorf / Germany;
www.brueckner.com
) at the Durban site in South Africa. However, the road to global leadership is still long. The entry threshold into the top 10 is currently marked by
Shenda Packaging
(Jinagyin, Jiangsu / China;
www.shendapack.cn
) with 195,000 t/y. The market leader is
China Soft Packaging Group
(Fuzhou, Fujian / China;
www.cspgroup.com
), which was the first producer to break through the 1m t/y mark for BOPP films (see Plasteurope.com of
29.10.2020
).
In addition to BOPP, BOPET is also being expanded
SRF had already commissioned a new plant for BOPET films in Hungary with a capacity of 40,000 t/y in August 2020 (see Plasteurope.com of
26.08.2020
). By 2022, the output capacity of the Jászfényszaru plant is to be increased to 100,000 t/y. Meanwhile, when it was announced in 2018, SRF had still envisaged a total capacity of 220,000 t/y. However, setting up the plant had become more expensive than planned. According to "India Info Online", the investment cost was EUR 80 million instead of the EUR 60 million originally targeted. Also, in 2018, SRF had announced the construction of an integrated plant for PET and BOPET films in Thailand with a capacity of 40,000 t/y (see Plasteurope.com of
18.07.2018
). This was commissioned in the middle of this year, according to media reports.
According to Plasteurope.com research, this brings SRF's total capacity for BOPP and BOPET films to 260,000 t/y at present. After completion of the new BOPP film plant in Indore, it will rise to 320,000 t/y. If the BOPET output in Jászfényszaru is also increased to 100,000 t/y, as announced, the total capacity will grow by another 60,000 t/y to 380,000 t/y.
17.12.2020 Plasteurope.com [246416-0]
Published on 17.12.2020
German version of this article...