BASF
Uptake agreement with New Energy for pyrolysis oil / ChemCycling project
BASF
(Ludwigshafen / Germany;
www.basf.com
) has signed an agreement with
New Energy
(Budapest / Hungary;
www.newenergy.hu/en
), a technology company specialised in pyrolysis of waste tyres, to take 4,000 t/y of pyrolysis oil to use as a chemical feedstock. In a pilot plant at Ludwigshafen, the German chemical and plastics giant has already integrated first volumes of the Hungarian firm's pyrolysis oil into its network. In its "ChemCycling" project initiated in 2018, BASF is trialling the reprocessing of post-consumer plastics waste on an industrial scale; first products are already on the market. Additionally, the two companies have agreed a feasibility study on adapting New Energy's proprietary pyrolysis technology for use in conversion of other plastics waste streams.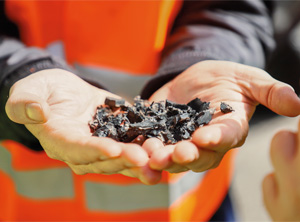 Shredded waste tires, ready to be further processed into pyrolysis oil by New Energy (Photo: BASF)
In the BASF network, the pyrolysis oil is used in targeted applications to replace fossil-based feedstock, with the share of recycled raw material allocated in a third-party audited mass balance approach. The products with the name suffix "Ccycled" have the exact same properties as those manufactured from fossil feedstock, the group stressed, making them suitable for processing in the same way as conventionally manufactured products and for use in high-quality and high-performance applications, including automotive, BASF added.
Commenting on BASF's goals for reprocessing post-consumer waste,
Christian Lach
, project leader ChemCycling, said the aim remains the use of mixed plastics waste, which would otherwise end up in landfill or incineration. In particular, the group sees an opportunity to increase recycling rates for end-of-life tyres, for which there is as yet no commercial technology that allows pyrolysis oil to be used in high-value applications. By further broadening its raw material base, BASF hopes to create a new circular value stream and add a second recycled feedstock to its ChemCycling portfolio. In addition to the uptake agreement, BASF and New Energy have agreed a feasibility study aimed at adapting New Energy's proprietary pyrolysis technology for use in conversion of other plastics waste streams.
The latest partnership is the second BASF has established under the new approach unveiled by
Martin Brudermüller
at his first press conference as CEO in November 2018 (see Plasteurope.com of
21.11.2018
). In October 2018, the group announced plans to take a stake worth EUR 20m in
Quantafuel
(Oslo / Norway;
www.quantafuel.com
), another company specialised in the production of synthetic fuels and other products made from mixed plastics waste through pyrolysis. In announcing the latest stage of the project, Lach said Quantafuel will soon begin supplying pyrolysis oil derived from mixed plastics waste from its commercial- scale plant in Skive / Denmark. BASF will have the right of first refusal for the facility's 16,000 t/y output of chemically recycled pyrolysis oil and purified hydrocarbons. Together, the partners are developing the technology (see Plasteurope.com of
14.10.2019
).
08.09.2020 Plasteurope.com [245882-0]
Published on 08.09.2020