ALLIANCE TO END PLASTIC WASTE
Progress in 2020 / 14 projects worldwirde underway with plans to double in 12 months / Goal for zero plastics waste in more than 100 at-risk cities
The
Alliance to End Plastic Waste
(AEPW;
www.endplasticwaste.org
) has released its "
2020 Progress Report
", outlining achievements across its four pillars of waste management and recycling infrastructure, innovation, education and engagement, and clean-up. So far, the alliance has activated 14 projects across 14 cities in Ghana, India, Indonesia, the Philippines, Thailand and Vietnam. The 36-page report also features 55 member-led projects worth USD 400m (EUR 340m) that are working to end plastics waste in the environment.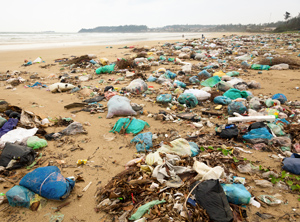 AEPW said it would have around 28 projects worldwide withing the next 12 months – twice the amount currently underway (Photo: PantherMedia/dnaumoid)
"The progress the Alliance is making in just 18 months is the start of a long road ahead. But we can shorten the road significantly when we act together across industry, governments, civil society and development agencies. The problem is solvable and our strategy is to apply a holistic approach backed by deep technical knowledge and resources from the full plastic value chain," said AEPW president and CEO
Jacob Duer
. He added, "Our ambition, over five years, is to divert millions of tons of plastic waste in more than 100 at-risk cities across the globe, improve livelihoods for millions and contribute to a circular economy."
Projects featured in the report include the "STOP" initiative in Jembrana / Indonesia (see Plasteurope.com of
19.10.2017
), which has created the first-ever solid waste management service with a full recycling system aiming to collect 20,000 t/y of waste, and "Zero Waste Plastic Cities", which aims to recycle 28,000 t of plastics during the first five years of operation in two locations: Puducherry, Tamil Nadu / India and Tan An in the Mekong Delta region of Vietnam.
In addition, the "Plug and Play" platform, which was set up across three hubs in Silicon Valley, California / USA, Paris / France and Singapore, has attracted applications from more than 1,000 start-ups in Silicon Valley and Paris (see Plasteurope.com of
06.11.2019
). The Singapore hub – currently a virtual-only programme – was launched in August 2020, and AEPW is planning to establish new hubs in Asia, Africa and Latin America in 2021.
Another project highlighted by AEPW is the construction by French waste management group
Suez
(Paris;
www.suez.com
) of a plastics recycling plant in Bang Phli / Thailand, the company's first outside of Europe. The facility will convert 30,000 t/y of locally collected polyethylene film waste into high-quality recycled materials (see Plasteurope.com of
12.06.2019
).
AEPW members are also collaborating on various initiatives. One example is a study of a secondary sorting system being undertaken by
Milliken
(Spartanburg, South Carolina / USA;
www.milliken.com
),
LyondellBasell
(LYB, Houston, Texas, USA;
www.lyondellbasell.com
) and
Berry Global
(Evansville, Indiana / USA;
www.berryglobal.com
). The "Pacific Northwest Secondary Sorting Demonstration Project" aims to increase the recovery of various categories of plastics (and paper).
Another example is money invested by member companies
PepsiCo
(Harrison, New York / USA;
www.pepsico.com
),
Procter & Gamble
(Cincinnati, Ohio / USA;
www.us.pg.com
),
Chevron Phillips Chemical
(The Woodlands, Texas;
www.cpchem.com
) and
Dow
(Midland, Michigan / USA;
www.dow.com
) as part of the "Ocean Fund" launched by
Circulate Capital
(Brooklyn, New York;
www.circulatecapital.com
– see Plasteurope.com of
30.04.2020
). The funds will plug a financing gap for plastics waste collection in Asia, in countries such as China, Indonesia, the Philippines, Thailand and Vietnam.
AEPW has also announced further ambitions for 2025. The alliance said it will build investable models and partnerships to demonstrate zero plastics waste in more than 100 at-risk cities, enable local ownership of waste management and unlock at least five times its investment to accelerate actions to end plastics waste and build sustainable cities.
Having expanded from seven projects at the start of 2020 to more than 14 currently, AEPW expects to double this number over the next 12 months and have projects worldwide, covering cities across all continents. Additional projects are already kicking off in Indonesia, the Philippines and Africa.
11.09.2020 Plasteurope.com [245874-0]
Published on 11.09.2020
German version of this article...