AIMPLAS
"Promising" results from first year of European BIOnTop project / Goal to develop recyclable and compostable packaging
Spanish plastics technology centre
Aimplas
(Valencia / Spain;
www.aimplas.net
) has announced "promising" results from the first year of the "
BIOnTop
" project, which aims to develop competitive low-cost bio-copolymers, compounds, biocomposites and coatings formulations suitable for use as recyclable and/or compostable packaging products. In the first of the programme's four-year development period, Aimplas said project partners have started experimental work on copolymers and compounds with customised biodegradability as well as multi-functional coating solutions with customised properties. In addition, they have defined the specifications for PLA-based products with customised end of life and properties.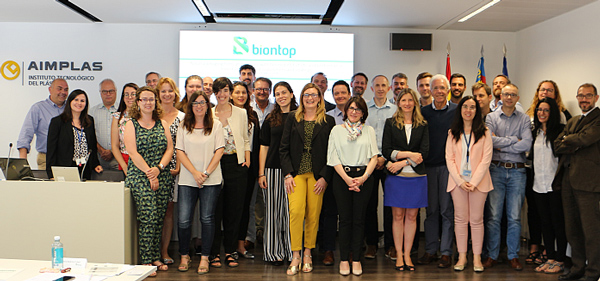 Aimplas is leading the BIOnTop project (Photo: Aimplas)
The BIOnTop consortium has also published two technical documents and one scientific paper on the project's initial results. One document is an extensive review of the state of the art, including scientific papers, patents and commercial information on biodegradable household packaging and textiles. This information was used as the basis for a paper entitled "Bio-based Packaging: Materials, Modifications, Industrial Applications and Sustainability" that was published in the peer-reviewed scientific journal "
Polymers
".
The second document is a compilation of information on commercial biopolymers, additives and monomers, including suppliers and prices, in order to select the source materials so that work can start on laboratory scale-up formulation for upcoming activities.
All three documents are accessible through BIOnTop's website.
BIOnTop is funded under the Bio-based Industries Joint Undertaking with the EU's
Horizon 2020 programme
. The project is made up of 20 institutions from eight European countries – Italy, Spain, Belgium, Germany, The Netherlands, Czech Republic, Estonia and Croatia.
03.09.2020 Plasteurope.com [245811-0]
Published on 03.09.2020