MARINE LITTER
Study proposes comprehensive strategy to tackle ocean plastics / Elimination of many single-use and non-recyclable products needed / Actions to curb pollution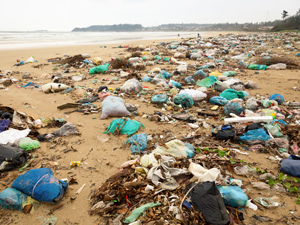 A new study proposes eight "System Change" strategies to cut 80% of plastics entering the ocean by 2040 (Photo: PantherMedia/dnau)
Researchers from public policy organisation
The PEW Charitable Trusts
(Philadelphia, Pennsylvania / USA;
www.pewtrusts.org
) and systems change initiative company
Systemiq
(London / UK;
www.systemiq.earth
) in July 2020 published a study in the journal Science that estimates the severity of ocean plastics pollution. The publication proposes a multi-solution model for the international community that promises by 2040 a reduction at over 80% of plastics entering the oceans, a 25% reduction in greenhouse gas emissions, global savings of USD 200 bn per year and the creation of 700,000 additional jobs.
"
Breaking the Plastic Wave: A Comprehensive Assessment of Pathways Towards Stopping Ocean Plastic Pollution
" is a report from the
Ellen MacArthur Foundation
(EMF, Cowes / UK;
www.ellenmacarthurfoundation.org
), environmental group
Common Seas
(Bristol / UK;
www.commonseas.com
), the
University of Oxford
and the
University of Leeds
, among others, that offers a perspective on the study, which estimates that 11m t of plastics waste enter the oceans every year, joining the approximately 150m t already there. Without immediate and sustained action that amount will rise to 29m t, equivalent to dumping around 40 kg of plastics on every inch of coastline in the world. Rising per capita plastics use, shifts to low-value/hard-to-recycle materials, disproportionate growth in regions having low plastics collection rates and population growth are causes driving increased plastics pollution. Currently 40% of 91m t of global plastics waste is mismanaged and ends up in the environment.
The study estimates that in the period from 2016 to 2040, with no change to current industry trends regarding production and recycling, the volume of plastics on the market will double, while the amount of land-based plastics "leaked" into the oceans will triple from 11m t to 29m t, and the amount of plastic stock in the ocean will quadruple by 450m t to more than 600m t. Plastics waste is expected to increase from 91m t in 2016 to 239m t in 2040. "The problem starts long before plastic reaches the oceans, rivers and beaches, and so must the solutions. We must eliminate the plastic we do not need, invest at least USD 150 bn in collection and reprocessing over the next five years to ensure all plastics are reusable, recyclable or compostable, innovate at unprecedented speed and scale and call on businesses and governments to unite behind a plastics circular economy, raise the ambition level for the project and maintain focus even during the current pandemic," according to the report.
Prior efforts to tackle plastics pollution have focused narrowly on one aspect of the problem, such as improving waste management and clean-up, implementing material bans or reducing plastics use. "Many strategies have been proposed for reducing or even eliminating plastic leakage into the ocean but there is no single solution able to do so effectively by 2040," said the report. As an alternative, the report introduces a "System Change" scenario in which eight approaches, each concentrating on a different aspect of the plastics value chain, are implemented at scale in an integrated, complementary and comprehensive approach for economic, environmental and social benefits.
Strategies to collect and dispose, recycle as well as reduce and substitute were analysed and compared to a "business as usual" (BAU) or baseline scenario where there is no system intervention that changes the plastics value chain from its current form. Analysis estimating the net cost to implement each strategy by 2040 ranged from USD 780-920 bn depending on the scenario selected, which compares to USD 940 bn for the baseline model. Ocean pollution is estimated in a 13-18m t range for 2040 depending on the strategy being analysed. That range compares to 29m t for the BAU model. Virgin resin usage was estimated to drop to 52-94% in 2040 depending on the strategy selected, relative to virgin material usage with the BAU model. Environmental gains were also reviewed through the model. Greenhouse gas emissions were estimated between 80-85% depending on the scenarios employed, relative to the BAU model of 100%.
However, analysis of the System Change approach showed a lower net cost of implementation – USD 740 bn compared to the baseline strategy. The System Change strategy showed a greater reduction of ocean waste to 5m t compared to the baseline strategy as well as a reduction of virgin plastics usage to 45% and a trimming of greenhouse gases to 75% compared to figures for the BAU model.
The report revealed an opportunity for additional material recycling, identifying six plastic product types it claims are responsible for 85% of all plastics leaking into the ocean today. Carrier bags and food service disposable bags, which are among the products named for ocean plastics pollution, currently garner much of the regulations and bans to direct them into a waste stream. However, monomaterial films, carrier bags, bottles, sachets and multilayer films as well as household goods represent a sizeable portion of these ocean plastics too. They are therefore an untapped opportunity to create a favourable end-of-life strategy for another plastic and advance a circular economy, according to the report.
The study's new comprehensive approach eliminates many single-use products and replaces hard-to-recycle or non-recyclable plastics with reusable items and new delivery system. The new eight-step approach encompasses the following strategies:
Reduce the growth in plastics consumption 30% by 2040 by transitioning away from plastics that have a short period of use, like carrier bags and food service items, toward products and services based on reuse.
Substitute plastics with other materials where viable, where 17% or 71m t of BAU plastics waste can be replaced with paper, coated paper or compostable materials. 95% of the nonrecyclable/reusable materials ripe for substitution have known alternatives that already exist at some level of scale.
Design products and packaging for recycling to increase both the yield and value of the recycled plastics. Eliminating dyes, pigments and additives, improving labelling to maximise recycling efforts and switching from products with multimaterial compositions to monomaterial structures can improve the economics by USD 120/t.
Scale up waste collection to 90% in low- and middle-income countries and up to 50% in rural areas by 2040 to capture uncollected waste that can find its way into the ocean. Critical to the success of this model is connecting 4 bn people to the new types of collection services by 2040 to close the collection gap, enhancing governance and mandating the use of recycled content.
Double mechanical recycling rates where only 15% of global plastics waste is actually being recycled. Scaling mechanical recycling up to 86m t/y would involve opening 107 recycling plants with 20,000 t/y capacity coming online globally every year from 2021 through 2040. Yet the increase in recycled feedstocks would offset virgin plastics production by 14% and greenhouse gas emissions by 48% compared to virgin material production.
Develop plastic-to-plastic conversion to increase global capacity and tackle contaminated or hard-to-recycle materials that are not handled by mechanical recycling. Here, chemical recycling can be used to convert 26m t per year by 2040 up from 14m t.
Dispose – as a transitional last resort – to handle plastics that cannot be economically recycled by other means. It is unrealistic to assume disposal of plastics waste will be unnecessary in 2040, but the report estimates a reduction of plastics deposited in dumpsites to 10% from 23%.
Reduce waste export to curb material flow into countries with low rates of collection and high rates of waste.
The report says that if every strategy and programme related to the System Change scenario is implemented, global plastics consumption per person would remain flat, compared to an 58% increase if the BAU model is followed. This reduces consumption by 125m t. At the same time, plastics will still find their way into the ocean, with up to 23% in the form of microplastics, primarily due to a lack of solutions to implement for that size of material.
17.08.2020 Plasteurope.com [245631-0]
Published on 17.08.2020