PVC RECYCLING
More than 771,000 t recycled via Europe's VinylPlus scheme in 2019 / Legacy additives remain a threat to targets / 2020 forum to be held online
VinylPlus
(Brussels / Belgium;
www.vinylplus.eu
), the European PVC industry's voluntary sustainability initiative, has announced that 771,313 t of PVC were recycled in 2019, up 4.3% on 2018. The results were published in VinylPlus' latest
progress report
. Totalling 363,137 t, window profiles and related building products accounted for 47% of the total PVC recycled in the VinylPlus framework. Another 13 recyclers also joined the
Recovinyl
(Brussels;
www.recovinyl.com
) network last year.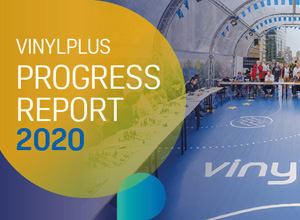 (Image: VinylPlus)
Commenting on the results, chairman
Stefan Sommer
said the figure was very close to VinylPlus' target of 800,000 t for 2020. The organisation has made a commitment to the EU that it will recycle 900,000 t/y of PVC into new products by 2025, and at least 1m t/y by 2030.
Last September, VinylPlus joined the "Circular Plastics Alliance", the EU alliance set up with the aim of getting at least 10m t of recycled plastics on the market by 2025 – see Plasteurope.com of
23.09.2019
.
Another highlight in 2019 was the further implementation of VinylPlus' "Additive Sustainability Footprint". Sommer said it can now provide its partners with a working methodology that can proactively evaluate the use of current and new additives in PVC products from the perspective of sustainable development.
Sommer added that legacy additives remain a "thorny issue" and the main threat to VinylPlus' recycling targets. He noted that several substances such as cadmium compounds, lead-based stabilisers and DEHP (see Plasteurope.com of
10.01.2020
) have been investigated from several angles, and new studies were continuing on developing and validating
Plastics Recylers Europe
's (PRE, Brussels;
www.plasticsrecyclers.eu
) legacy-additives screening protocol as well as complementary tests and modelling for legacy-additives leaching.
The VinylPlus product label, a sustainability certification scheme for PVC products used in building and construction, is also becoming increasingly known and requested, said Sommer, pointing out that the label has been officially validated in Italy by accreditation body
Accredia
(Rome / Italy;
www.accredia.it
). He added that VinylPlus is working to extend the validation throughout Europe and make it recognised in downstream sustainable construction schemes, such as the "Building Research Establishment Environmental Assessment Method" (Breeam). To date, 10 companies have received the VinylPlus product label for more than 100 PVC products manufactured at 18 European sites.
VinylPlus has also announced that because of health and safety concerns amid the ongoing coronavirus pandemic, it will host its "Sustainability Forum 2020" online as a one-day event on 15 October 2020. The event was initially rescheduled from May 2020 to October 2020 (see Plasteurope.com of
11.03.2020
). It said online registration for the event, which will focus on the theme circular vinyl, will open soon.
Plasteurope.com
keeps an updated list of event changes at
www.pieweb.com/corona-events-listing
.
12.06.2020 Plasteurope.com [245264-0]
Published on 12.06.2020