APK
Collaboration with Siegwerk on de-inking colour-printed packaging for recycling
German plastics waste recycler
APK
(Merseburg;
www.apk-ag.de/en
) has successfully completed de-inking trials with colour-printed LDPE films as part of a cooperation with printing inks manufacturer
Siegwerk
(Siegburg / Germany;
www.siegwerk.com
). The aim of the collaboration begun in October 2019 was to establish whether APK's solvent-based recycling technology "Newcycling" could fully remove the inks from the polymer matrix, a major challenge in producing packaging from recycled plastics. The experiment almost fully achieved this, the results show.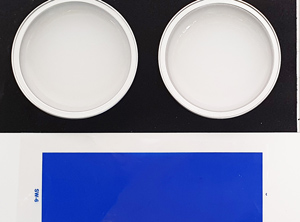 LDPE film printed with Siegwerk colours and de-inked using APK's "Newcycling" technology (Photo: APK)
Newcycling comprises a step of physical pre-treatment of plastics waste, which is done with conventional mechanical recycling processes. In the next stage of the solvent-based process, additives such as printing inks are removed from the polymer. In contrast to chemical recycling, the polymer's molecular structure stays intact during the entire process. Consequently, the energy that has been invested into polymerisation is preserved, APK notes. Another advantage is that the recycled polyethylene and polyamide produced through Newcycling have reduced carbon dioxide emissions – less than 47-88% of that produced by virgin polymers, the company said.
In the trials with Siegwerk, the film samples were first treated with solvent and dissolved. At that point, the polymer solution still contained printing ink-components. Subsequently, the dispersed inks were removed with a filter unit explicitly designed for the process step of de-inking and featuring a very high selectivity level. The de-inking tests of the red, black and blue samples produced a near-virgin transparency, while with the film printed with yellow ink a marginal yellowness remained after the treatment, APK said.
As packaging design ideally should consider recycling, innovative printing inks and lacquers that facilitate high-quality recycling are required as well as easy de-inking while keeping full performance during the use phase is essential, said
Alina Marm
, head of the Circular Economy Hub at Siegwerk. Following the principles of the EU's proposed "Green Deal" and its "Circular Economy Action Plan", APK said its technology aims at closing cycles for flexible packaging solutions that have been deemed unrecyclable up to now. "We aspire to combine environmental benefits of recycling with high-quality performance of the recyclate," said
Hagen Hanel
, head of the plastics recycling innovation centre at APK. The Merseberg-based company recently built up a new lab at its headquarters (see Plasteurope.com of
27.04.2020
).
25.05.2020 Plasteurope.com [245138-0]
Published on 25.05.2020
German version of this article...