SIMONA
Targets for 2019 narrowly missed / Changes to semi-finished products business in Europe planned
Semi-finished products manufacturer
Simona
(Kirn / Germany;
www.simona.de
) did not quite achieve its targets in the previous fiscal year. The company reported both lower results – EBITDA at EUR 46.8m and EBIT at EUR 29.4m – and a turnover that grew 3.5% to EUR 432.5m. Revenue expectations for 2019 were at EUR 435m. At the same time, the company's sales growth was owed almost exclusively to its acquisition of
Premier Material Concepts
, now
Simona PMC
(Findlay, Ohio / USA;
www.buypmc.com
). The main reason for this is the continuing weakness of the semi-finished products sector in Europe, for which a restructuring programme was initiated last year under now-retired CEO
Wolfgang Moyses
.
With an EBIT margin of 3.6% in Europe, which accounts for two thirds of total sales, the new CEO
Matthias Schönberg
is not satisfied. However, he still thinks Simona has "a good basis" to weather the coronavirus storm.
In the first quarter of 2020, Simona escaped the worst effects of the Covid-19 pandemic. At EUR 107.7m, sales were 3% down against the same quarter of 2019, even though business in China almost came to a standstill. With a 14.2% drop in sales, Chinese business fared much better than expected, as CFO
Michael Schmitz
summed up during the online press conference given from Simona's headquarters in Kirn. Now that China is recovering, problems have shifted to Southeast Asia. For Europe and the US, however, he does not expect significant revenue declines until April. The simultaneous significant fall in polymer prices provided some relief. Short-time working has not yet been applied for, but preparations have been made for this.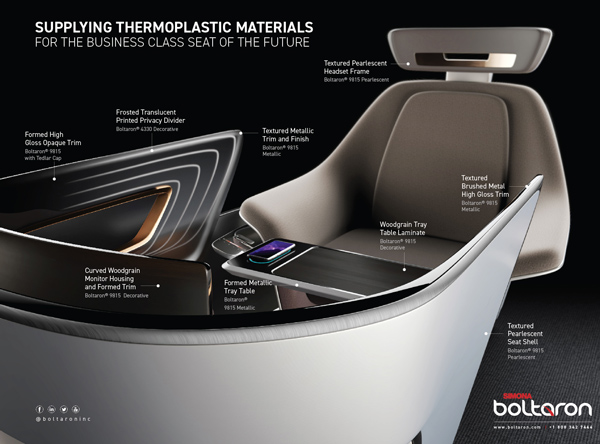 Application of parts produced by Simona's subsidiary Boltaron in aircraft interiors (Image: Simona)

Subsidiary Boltaron, which is focused on products for aircraft construction, is currently causing problems in the US. While its classic business is still stable according to Schönberg, the aviation business has taken a considerable hit. In Kirn, management does not see a quick recovery either, which is why a revival of some product areas that had been abandoned in recent years is being discussed in order to put idle production capacities to use. All three of Simona's US plants were shut down for a week in March, and the measure might soon be repeated.

Meanwhile, Simona is making changes to its semi-finished products business in Europe. According to COO Jochen Hauck, the company wants to focus more on application markets again. By processing large projects on its own, Simona hopes to become an "industry insider" after having relied more on distributors and losing contact to its end customers. According to Hauck, a regional sales force is part of the company's new business model.

There are also plans to enhance Simona's global production synergies – the company intends, among other things, to convert its plant in Litvínov / Czech Republic to produce solely pipes. The site's panel manufacturing is to be moved to Kirn in the medium term. Simona also plans to open up new business areas – Schönberg sees industries such as aquaculture, seawater desalination, semiconductor production, construction and infrastructure as well as train interior panelling as opportunities to explore.
05.05.2020 Plasteurope.com [245038-0]
Published on 05.05.2020
German version of this article...