PLASTIC FANTASTIC
It's sad but true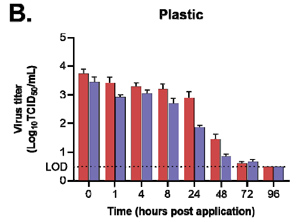 It takes three days for Covid-19 on PP to slip below the detection limit (Image: National Institutes of Health)
Much to our chagrin, the coronavirus has more in common with humans than we'd like to think – it's fast-spreading and merciless with a fondness for polypropylene and stainless steel, materials used for car interiors, packaging and doorknobs. Among other things.

For weeks now there is one question on everybody's mind: Here I am, washing and disinfecting my hands as often as possible, but what happens when I take even one cup of yoghurt off the shelf? Researchers at the National Institutes of Health (NIH) in the US are monitoring the survival of the Covid-19 virus on surfaces like steel, PP, carton or copper.

Conclusion: The virus was no longer detectable after a whopping 72 hours on PP, 48 hours on stainless steel and 24 hours on carton. For some reason, it really seems to have a particular dislike of copper, clinging to this material for only 8 hours. Maybe the solution is to convert everything to steam punk… then again, maybe not.
20.03.2020 Plasteurope.com [244771-0]
Published on 20.03.2020