PETCYCLE
German operator for reusable bottle system sees drop in sales in 2019 / Proportion of recyclate will soon reach 75%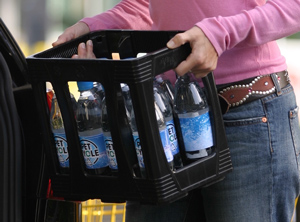 Petcycle's system in Germany – reusable drink bottles that are returned in plastic crates – witnessed a significant drop in sales last year (Photo: Petcycle)
Petcycle
(Bad Neuenahr-Ahrweiler / Germany;
www.petcycle.de
) has reported an 11.8% drop in sales for 2019, down to 1.035 bn bottles. The company, which operates the system in Germany whereby reusable PET bottles are returned in plastic crates, has identified three reasons for this: more "plastics bashing", a rise in individually branded containers and unusual weather conditions. According to Petcycle's
Alfred Peuker
, higher temperatures in the summer of 2018 compared to 2019 resulted in extremely high sales figures in the previous year.
The decline in sales at Petcycle is more pronounced than the outcome for the mineral water industry as a whole. According to the association of German mineral springs
VDM
(Bonn / Germany;
www.vdm-bonn.de
), sales from German mineral springs were around 11 bn litres in 2019, 3.8% below the record high of 2018.
The Petcycle bottle circulation system for mineral water and soft drinks, which celebrates its 20th anniversary this year, is used by 65 drink manufacturers in Germany for around 150 beverage brands. All bottlers are required to use at least 55% recyclate in their containers. Peuker says along with the consistently high recycling rate 99.3%, "the average proportion of recycled PET in bottles was increased by 9.5% to 61% in 2019." Although it is "significantly more expensive than new material," some members of the system are already using 100%. At the shareholders' meeting at the end of April 2020, Peuker is expecting the proportion of recycled content to be increased to 75% per bottle.
The current, often very subjective discussion about plastic packaging and thus also PET bottles is troubling for the industry as a whole, says Petcycle managing director
Hans Baxmeier
: "When EU commissioners speak of plastic bans, or France announces rigorous bans, we wonder why constructive options are not being discussed, such as the development of deposit systems like those in Germany." In his opinion, politicians should show significantly more interest in closing the resource loop for recyclable materials in the field of waste management and recycling.
17.02.2020 Plasteurope.com [244480-0]
Published on 17.02.2020
German version of this article...