CHINAPLAS 2020
Plastics trade fair in Shanghai postponed due to coronavirus outbreak / Negative economic impact predicted
This year's "Chinaplas" (
www.chinaplasonline.com
) trade fair has been postponed. Organiser
Adsale
(Hong Kong / China;
www.adsale.com.hk
) announced the postponement on 5 February 2020, saying the measure was "to control the novel coronavirus epidemic in China and in accordance with the instructions issued by the Shanghai city government to stop all large-scale activities."
Initially scheduled to take place from 21-24 April 2020 at the National Exhibition and Convention Center (NECC), Adsale is to announce new dates for Chinaplas 2020 at a later time. "Health and safety of all show participants are at our top priority therefore we have to make this decision," said the organiser.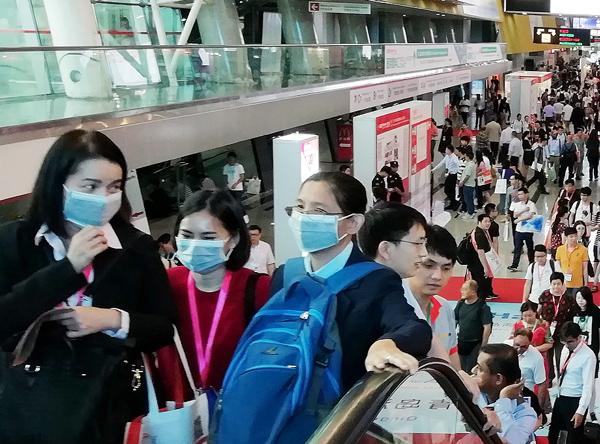 As a result of the coronavirus epidemic, trade fair organiser Adsale has had to postpone Chinaplas 2020 (Photo: PIE)
The 2019 edition of Chinaplas in Guangzhou had 3,615 exhibitors and a record 163,314 visitors – see Plasteurope.com of
06.06.2019
. The previous edition in Shanghai (which typically has more attendees) in 2018 was the first time the trade show took place at the NECC, with approximately 340,000 m² of exhibition space. Chinaplas 2018 recorded 180,701 visitors, of which 47,900 or around 27% were from outside of China.
Chinaplas is not the only event having to deal with the aftermath of the coronavirus outbreak. At the end of January, the organisers of 3D printing trade fair "TCT Asia 2020" (
www.tctasia.com.cn/en
) also postponed the show initially planned for 21-24 February 2020 in Shanghai.
State of emergency is impacting China's production and supply chain
Meanwhile, the national holidays around Chinese New Year were extended due to the coronavirus outbreak, which is already having a considerable impact on the world's second largest economy. According to media reports, several local governments have directed companies not to resume operations before 10 February 2020, with some facilities possibly staying closed until mid-March.
The entire polyester chain could falter. Hubei, a province that is particularly affected by the virus, and a major part of Central China have important production locations for the textile industry and, accordingly, for the PET sector as well. The region is effectively at a standstill. "A prolonged transport paralysis will mean no fibres or fabrics produced in the major production bases in coastal provinces of China will be sent inland – whether by road, rail or along the Yangtze," said
Wood Mackenzie
(Edinburgh / UK;
www.woodmac.com
).
The local supply industry is also affected by the current crisis, with automotive manufacturing dealing with restrictions and delays. According to research group
GlobalData
(London / UK;
www.globaldata.com
), the global auto sector is vulnerable to the impacts of the epidemic. "We are still at an early stage in this crisis and the authorities' focus is obviously on direct human health impacts," it said. However, there is an increasing risk that "industries such as automotive will potentially be impacted by lower demand and disruption to manufacturing schedules and supply chains." China's car market decreased by 8.2% to 25.8 units in 2019, and a further decline was already predicted for 2020. Due to the outbreak, vehicle purchases could essentially be suspended in the months to come, putting further strain on the market, says GlobalData.
05.02.2020 Plasteurope.com [244147-0]
Published on 05.02.2020
German version of this article...